Before we leave Vieste, we should say that we were welcomed by several of the Italian Coast Guards' finest, including the handsome Captain, who was there with his wife and their adorable son. We have mentioned it was a feast day and even though he had the day off, he was just checking that everything was going well at the office.
When he found out we were from Sydney, he told his wife and she asked if we knew her first cousin. She said he lived in Sydney. This happens quite a bit.
She said "His name is Joe Tripodi." James said "Oh yes, he is infamous." I quietly kicked James in the shin and smiling said " We do know who Joe Tripodi is, but we don't know him personally. He was a politician for a very long time." She nodded demurely and we can see she had been told Joe was famous and important. What is that line about not being able to pick your relatives?
Even though the weather in Vieste was nice, by the time we got to Bari, the weather was a bit grayer. Bari is a big city, with some beautiful old buildings and Centro Storico, but very busy and a bit rough around the edges. We walked quite a bit, found Nespresso, also a great supermarket – Numero Primi and Eataly.
All of these made provisioning for the boat easier as the meat, cheese, condiments and pastas were fresh and at Eataly, we were able to have a wonderful lunch with the nicest salad we had eaten for weeks. Eataly also had a terrific wine selection of wines from all over Italy, so we think Bari is a good place to provision.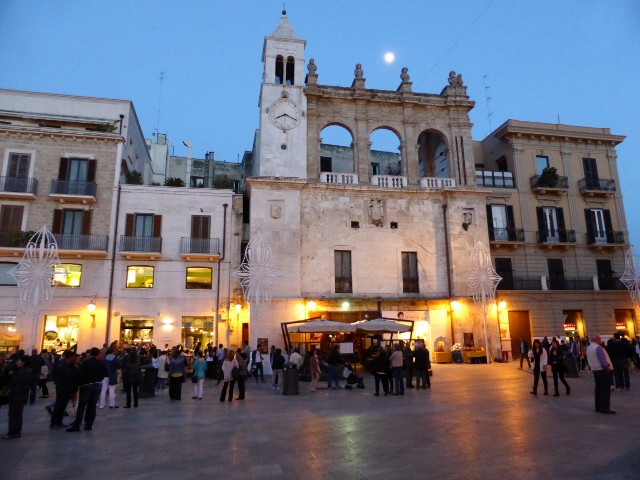 We decided that even though the wind was strengthening, it should be safe enough to dash down to Brindisi on Wednesday, because Thursday's weather was raising red flags. The front came in a bit early and we had 2 meter seas following us on Wednesday, but it was manageable because we were running with the wind. It wasn't comfortable, but it was safe enough.
The natural harbour of Brindisi, is famous for being at the end of the Appian Way, famous even before the Roman times. It is such a narrow entrance, it was easily protected. The Brindisi citizens decided that Mark Anthony was going to start a civil war in Rome, so it chained the harbour and denied his war ships entry from Greece.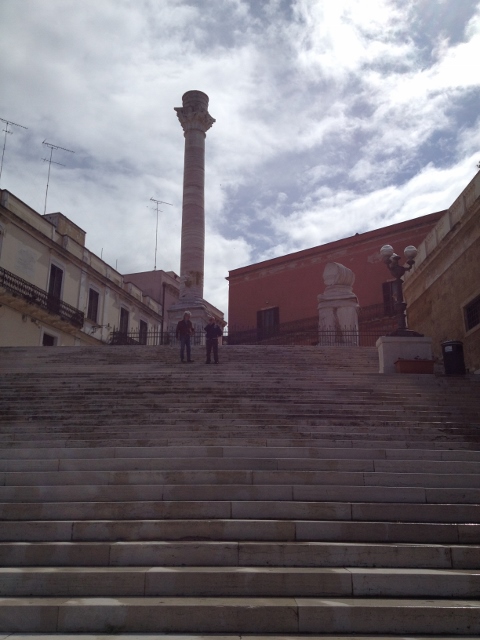 We were thankful that Brindisi's grand seawall offered immediate safe haven and protection from the rolling Adriatic waves. We had two days to repack and sit out the storm before we would head off to Greece (via Otranto).
We sailed to Otranto, a medieval walled city and then left early the next morning for Greece.
Arrivederci Italia, we hope to be back next year.