As we pulled into Kalambaka, Joy, our affable and passionate tour guide, was effusive in describing the Meteora to us. The was a collective gasp at our first site of these amazing pinnacles hovering above the village.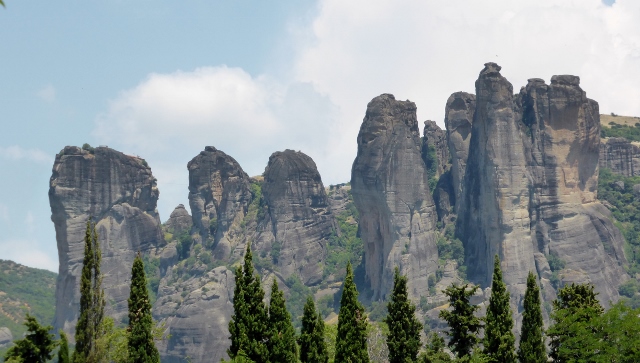 Meteora means 'suspended in air'. Her arms created an arc to explain they were named Meteora because like shooting stars and meteorites they are between heaven and earth.The sound track of Close Encounters of the Third Kind leapt into my brain. There was an eerily sci-fi – religious feeling at the site of them.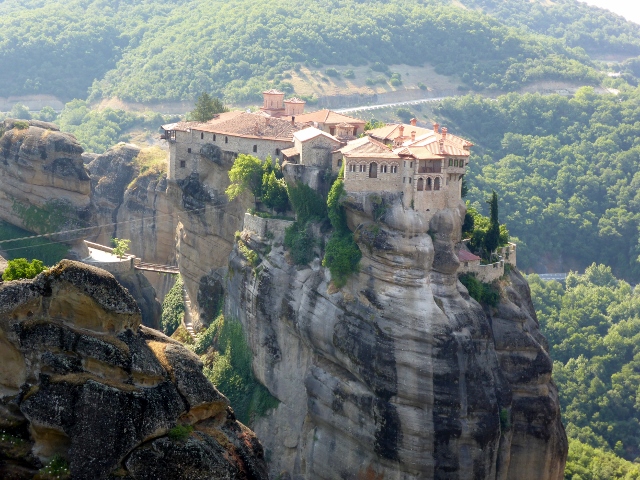 The next morning we were up early to visit Megalou Meteoron, the oldest monastery. There were 23 monasteries at one time and now there are six as well as a beautiful, thriving nunnery with gardeners of many talents.
The remoteness of the pinnacles in Northwest Thessaly and the difficulty of access, meant that monks could continue to practice the Greek Orthodox religion and maintain its traditions, when the Ottomans were forcing conversion on Greeks in more accessible villages.  If you visited in the 1960's or before, you would have been pulled up in a large net, much like a catch of fish. This would not have been for the faint of heart, today a funicular takes materials, monks and workers across to the monasteries. Great painters of Greece would come and spend time there and create wonderful art and icons of the saints.
My remaining question is how did the first monk make it up the cliff?
Happy Birthday to Frosty and belated wishes to Chris.