Athens is vibrant bordering on frenetic. There are so many people wandering the streets, but if you stay away from Cruise ship tours, travel the intricate back streets, you will enjoy it.
Anafiotika is near the north side of Acropolis hill and looks like it was pinched from the Cycladic island of Anafi and perched there on a steep site. There were workers who came to Athens in the early 19th century, they became homesick, so built there minute houses to remind them of Anafi.
You often see small children and grandparents on the Happy Train, as we were walking out of Anafiotika, you can see that a badly parked car meant the happy train couldn't turn the corner. We came upon them pulling the happy train apart car by car and taking each car around the corner. Does the happy train blow its whistle and helpers come running?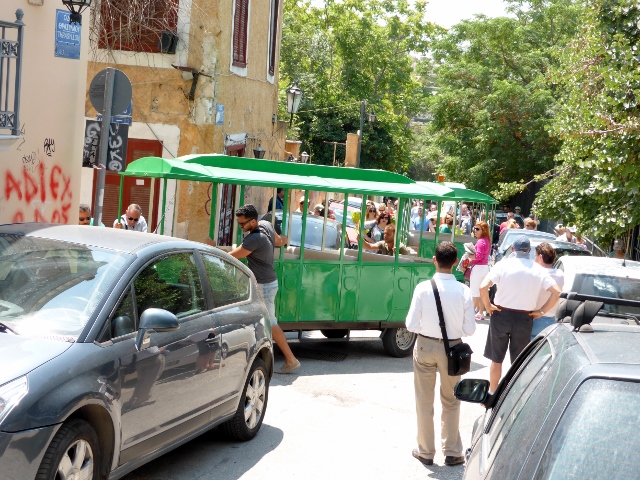 We wandered past the Tower of the Winds, which was a water clock on the inside and a sun dial on the outside. It has carvings of the eight winds on each of its eight sides.
We visited the wonderful National Archaeological Museum with Leanne and Cam, but on Sunday we visited the Acropolis Archaeological museum. This captivating museum is just five years old and definitely a must see. The architecture is light and open with use made of the subterranean spaces. You walk over glass and view three stories of excavations or a minuscule fragment of tea cups or amphora.
Wikipedia says: The design by Bernard Tschumi was selected as the winning project in the fourth competition. Tschumi's design revolves around three concepts: light, movement, and a tectonic and programmatic element. Together these characteristics "turn the constraints of the site into an architectural opportunity, offering a simple and precise museum" with the mathematical and conceptual clarity of ancient Greekbuildings.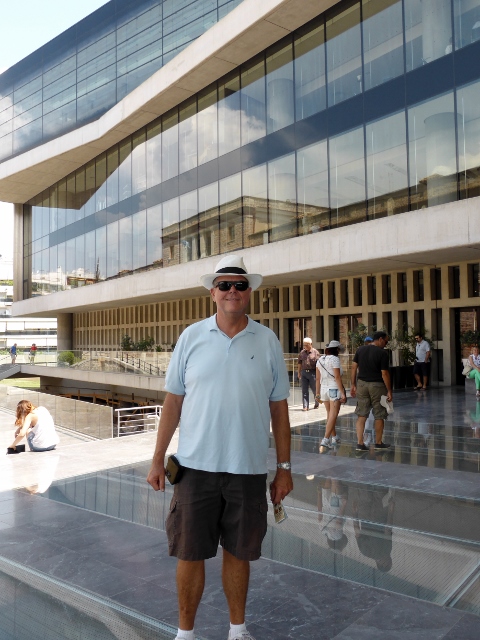 Happy Happy Birthday, darling Rene. Hope you are spoiled all happy day long.