What to do in a meltemi?  Swimming in the churned up water is not an option nor is a nice quiet sail.  We decided to take the city bus all around the hill top villages of Steni, Monastiria, Komi, Krokos to see all of the dovecotes and gardens we had read about.
The Venetians were part of the history of Tinos creating a safe haven on the great rock, Exompourgo. The Venetians found creating dovecotes meant they would have meat and eggs but they would also garden with the collected droppings.  Over the centuries in these barren islands Tinos with it dovecotes is one of the lushest. The dovecotes or peristeriones were highly decorated with some houses looking rather romantically, just like a dovecote.
On Tuesday morning, we slipped away from Tinos town early and headed over to the island of Syros.  After days of 50 knot winds, we would have been lucky to have 5 knots for our journey.
We motored into the sleepy harbour of Finikas, with it's lovely marina, beautiful bay and beaches and only a short bus trip to Hermoupolis.  Hermoupolis is sacred to Hermes the god of commerce, this is the largest city in the Cyclades. Also known as Ermoupoli, it has a beautiful natural bay and gorgeous buildings rising up to Ano Syros.  It has a beautiful town square, Plateia Miaouli, paved in marble lined in palm trees and cafes.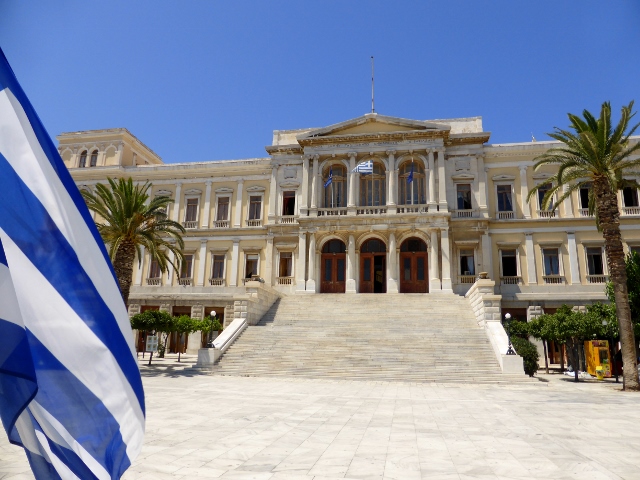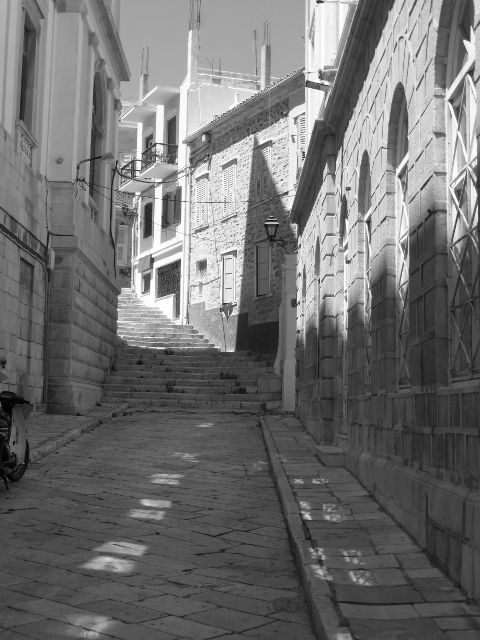 There will be more on Ermoupolis, we hope you come back to take a look. Friday and Saturday we expect another meltemi but we are snug at Finikas, waiting for Debbie and Geoff Davidson to join us.  We hope Stephen and Rosemary made it home safely.