Naxos Port has a hands on harbour master, Nikos.  We knew we could leave Mercier at Naxos and take a ferry over to Santorini.  We departed Mykonos on Tuesday with a diminishing meltemi in three and a half hours sailing we were in front of the Portara Gateway from the unfinished Temple of Apollo and sailing into Naxos Town.
We walked up to the Venetian Castle and then wandered through the winding alleys of the medieval quarter called the Bourg. It was before the end of siesta, so you could easily imagine that the pirates had come and taken everyone away.  The only residents we saw were some very sleepy cats.
Wednesday evening  found us at the Potara Gateway on the islet of Palatia, looking at the sunset with the other tourists, but when the sun went down, they departed.  Merro pulled out of his trusty Squadie bag, a bottle of Mercier Champage and we sat on the ruins and toasted absent friends.
On Thursday we toured the island of Naxos in a little rent a car.  First north to the sleepy beach village of Apollon, through very windy roads in a verdant landscape of olive groves and fruit trees.
You wouldn't think Davo was a sentimental bloke, but he gets almost misty eyed at the sight of the gum trees he is seeing on these Greek islands.  The dry barren islands of the Cyclades really are a perfect second home for these gum trees.We had a wonderful lunch under the shade trees in the hilltop village of Apeiranthos with cool breezes and wonderful food.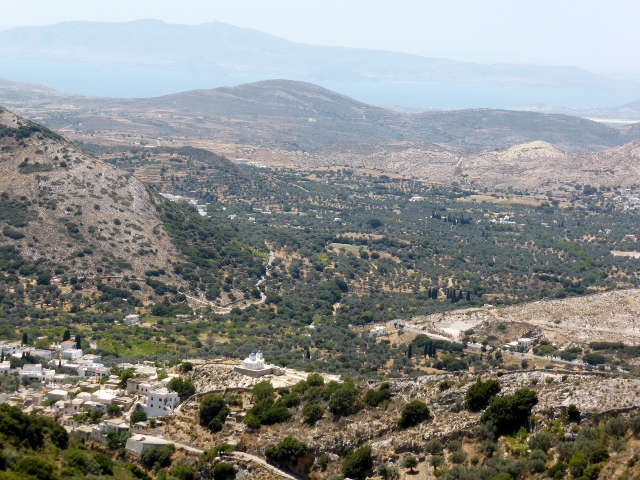 We ended the day without cameras at the beautiful Plaka beach south of Naxos town and had outdoor showers and cocktails at a resort there.  Naxos is a beautiful island, maybe we will all get to return.