Tuesday morning finds us facing a westerly swell on our way to Elba, but it doesn't last that long from shore and we have a pleasant sail for several hours. Before we are half way there we can see the Island Of Elba.  Famous for…that's right:  Napoleon's exile, his prison was a most beautiful island and he had lovely accommodation.  Elba only managed to keep Napoleon for a year but chances are if he was sent here now, he might not want to leave.
We sailed in to Citta di Portoferraio, with the yachts and super yachts tied to the old town's harbour wall and looking at Darsena Medicea  or Cosimo Medici's dock. The town is built on old fortifications & ramparts to protect from pirates and raiders.
We have just landed when we hear an Aussie accent ask about the boat, a couple from the CYCA, came to ask about how we liked Mercier and what was good or bad. . It was great to hear an Aussie accent.
He purchased a Beneteau Sense 43 in Sydney – the one that was at the boat show.  He has had a few of the same small problems that Mercier has had.  What was different was that our friend, Simon, at Sunbird Yacht sales has had many of Mercier's issues remedied and still has a list to be worked on.  These lovely people were fixing theirs themselves. So I am sending a big thank you to Simon, Eric and the great team in Palma. You are appreciated.
Judging by the frutta di mare seafood soup we had for dinner last night, the food is excellent and the café was in a little laneway away from the hustle of the waterfront.  Melbourne has nothing on Portoferraio, these are cobblestones lanes and very rustic houses, with planters of laurel and hydrangeas to take your eye away from the peeling paint.  After dinner, we walked back through the old buildings to a full moon over the harbour; it was as if the man in the moon was smiling down on us.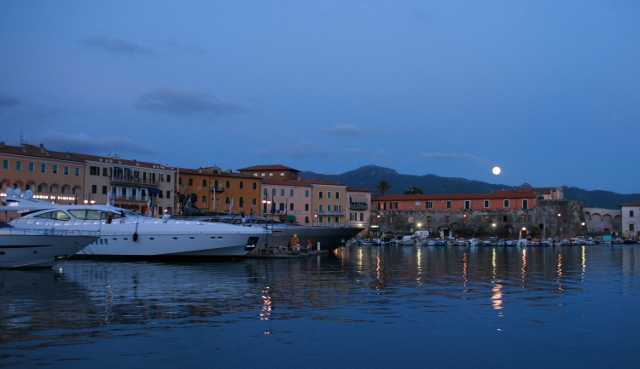 This morning we jumped on a bus to visit Marciana Alta for lunch. We relished sitting in cool breezes at the highest point on Elba and also one of the oldest.  This is an old Pisan fortress. There was an initial disconnect as we reached Bar La Porta for lunch, BB king was playing and the blues played under these brilliant blue skies the entire time we were there. Made for a very mellow lunch after we got over our surprise.
After lunch we got back on the bus to take the long way to Portoferraio.  The views were sensational and at times on the bus literally breathtaking. That was because we were so close to the edge of the cliffs and we could see the clarity of the water almost 300 meters straight down. I would have taken photos but it was a matter of white knuckles on the rail for most of the trip.