We left the gorgeous D Marin in Gocek, after a lovely dinner at The Breezes, which ended with Rene begging a young woman to model one of Nat's gorgeous evening vests. You will see a photo of the vest later. All of you with children know that as parents, godparents or aunts & uncles, we will nurture our young charges and help further their careers and creative endeavors, but not many do as much to assist as Rene does to help Nat. This includes taking an impossibly small sample vest around the world, talk James and Blue into sailing close to glamorous gulets, super yachts and modern ribs for fashion shots.  She also accosts young woman in restaurants, who are so small they might actually be fairies or elves, to try on said glamorous top.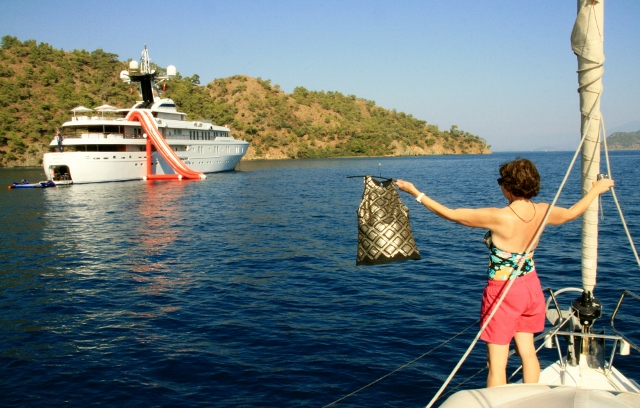 Back to all the bays, we left Gocek to go to the beautiful area called 12 Islands en route to Fethiye. There is Ruin Bay, Tomb Bay, Wall Bay with the lovely Wall Bay cafe, 22 Fathom Cove and Deep Bay, which had lovely moorings, and Cleopatra's Beach with Baths.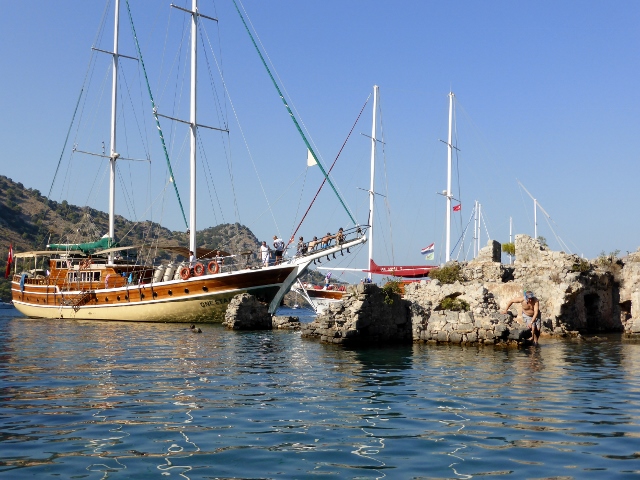 Having shopped at the wonderful Gourmet Garage, we had a rib eye roast and lamb cutlets to barbecue so we were off to bays so deep, we could only just set an anchor and then tie our sterns to the shore. In Deep Bay, on moorings, we could  open the swimming platform and jump in every 30 minutes or so because the temperatures were 40 plus. You can't barbecue until after 8PM, because the wasps love meat.  We have found a solution: take Turkish coffee and set it alight in a small ashtray or tin can and the acrid smoke sends most of the wasps away.  For the one or two that linger, we use the Malcolm Levy approach and employ the electrified tennis racquet.
We stayed one night on the pontoon at Wall Bay Cafe, which had Anatolian musicians and a beautiful outlook under the pine trees and stars.  The food was lovely and simple, there was a cooling breeze and yachts and gulets with lights on shining all around Wall Bay and the nearby bays.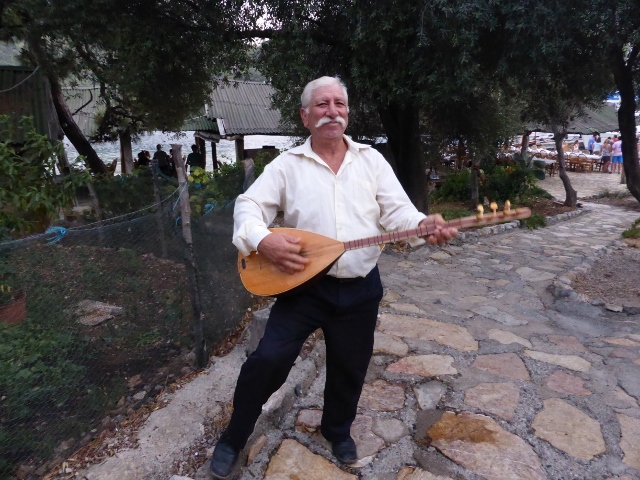 The heat has been dramatic, we have tried sleeping in the cockpit and on floors. We think we will make our way to Fethiye and a nice hotel with a pool and air conditioning.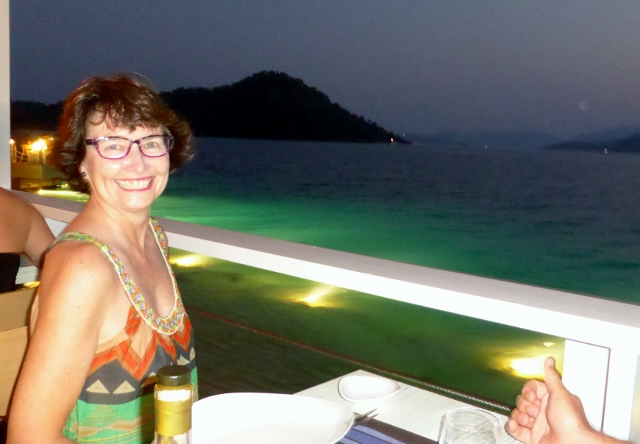 A few people have asked what we do with Richard, if he starts stressing too much. We don't want you to worry, we take Richard out to buy Turkish cotton shirts. Rene and I don't mind because the shops are air conditioned and Blue now has quite a collection. Still we have a naughty corner, if he gets too out of control.