One of the highlights of travelling with an iPad is the use of Google translate with the iPad being passed back and forth so your conversation can be read if they can't understand your Italian.  This worked remarkably well with the Douane (Customs) in Imperia.
Over the last few days we have downloaded Katie Parla's Rome, an app about finding food in Rome.  Today we took it for a trial run.  We went to see a store, Spazio Sette, in a part of town we hadn't been to.  It was quite a walk from the train station as we when we walked out, we typed in coffee and right around the corner was a wonderful traditional Italian coffee shop, Caffe Camerino. In the cool old traditional space, we enjoyed our Lattes.
We walked over the Tiber River to Trastevere and passed by a very old house with the name Dante's house on a plaque.  We strolled on viewing very old working class neighbourhoods. Eventually, we jumped on the tram which took us back to Argentina, near our starting point.   We had typed in Creative and Ecletic for lunch and Parla's app sent us to Roscioli at the Centro Storico (historic centre) for lunch.  The food was rich and perfectly cooked, Roscioli's is a deli and wine bar and has tables so you can enjoy the food and wine right there. You might get the impression of  casual dining as it's in the deli, but the  napkins and tablecloths were linen and the service was professional.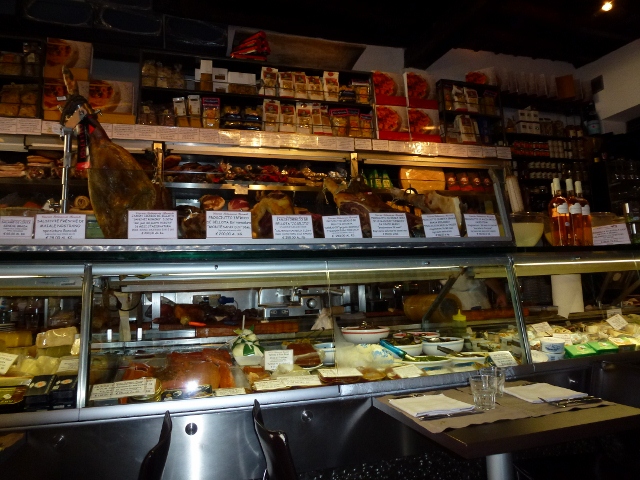 While we were waiting for our food, a very dapper gentleman came in and had a glass of wine, while he ordered and waited for his prociutto and burata to be packaged up. He watched as the prociutto was expertly and finely sliced.  Norton Street deli sales would go up phenomenally if you could have a glass of sangiovese while you waited.
We proceeded to Villa Farnese, thinking we would be going to a museum with perhaps a garden, so we could escape the heat.  It is now the French embassy, so we sat in the square and watched a lovely girl feed her bread to the pigeons; a very Roman scene.
Even without an App, it is easy to get a great cup of coffee, which you need to keep moving up and down these cobbled stone paved streets, shared with motorcycles that sound like a swarm of mosquitoes and dodging taxis. Just when we thought collapse was emminent, we found a perfect cafe and sat and people watched.  We tried to figure out were we were but we miscalculated, now it would be hard to find it again. Somewhere close to Parliment, we think.