We motor sailed south from Symi to Kalki. We pulled into the small but colorful harbour about lunch time, tying up to the ferry wharf. That gave us four hours to explore the village before the ferry docked and we retreated to anchor.
We went for a walk in the village, Kalki used to be a sponge diver's island but then the sponges died out and many people from Kalki migrated away.
Tourism seems to be the new economy for Kalki. There are colorful B and B's and apartments for rent. Tavernas line the harbour shore. It is quiet and lovely with sandy beaches.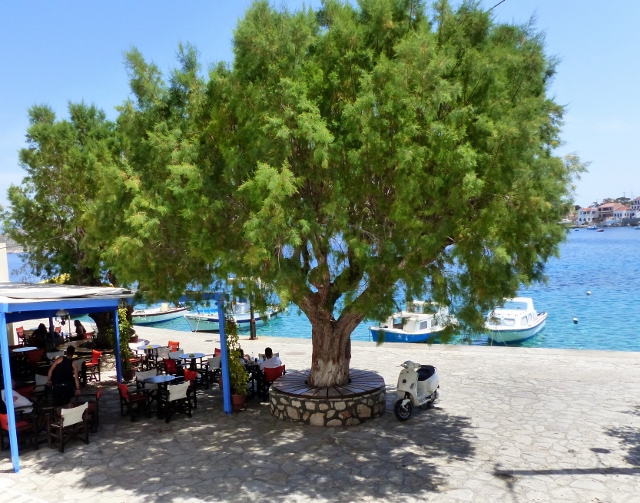 The next morning we were met by dolphins, they were so petite and friendly.  We were on our way to Karpathos, then Kasos in an area Heikell calls sea-swept.  They are the two most southerly islands of the Dodocanese, in a very angry sea.  Heikell certainly called it right, confused seas were the order of the day. Predicted wind was 15 knots but we had almost 20 knots as we got close to Karpathos. We went into a narrow opening between high hills of rocks, to the abandoned village of Tristoma.  The wind howled all night and my active imagination thought of what would happen if a rock tumbled in behind us and we were captured in the inlet.  There was no phone service, not even an SOS service.
We left at first light the next day, with the wind on our nose on the course for Kasos. A decision was made, it was a longer trip but a tight reach to go straight to Sitia, Crete. By this time, we weren't surprised with our 25 knot breeze and waves slapping Mercier from every angle. Things were a bit wet in the cockpit, even wet down below. We were thrilled  being greeted by dolphins on our way into Sitia Harbour, a day early but safe and sound. James' sister, Barbara, flew in almost simultaneously.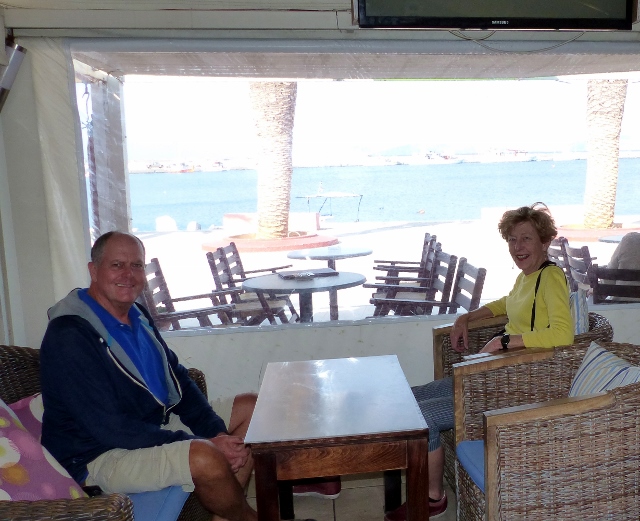 Sitia is a quiet town and we ambled up to the Venetian Castle, had baklava for afternoon tea, a reward for doing the laundry by hand. The three of us wandered around people watching at the tavernas. Backgammon and cards were being played at many tables. We enjoyed the respite from the drenching waves and prepared for our next adventure.