James and I have taken Italian 101 about 9 times and one of our teachers in Sydney was Giacomo, who came from Ishcia.  He told us while breaking into song in class that in Ischia everyone sings.
Approaching Ischia from Ventotene, we sailed past the northern part of the island.  From a distance, you could be looking at a Hawaiian Island, the same vision of lush green tropical foliage.  It is easy to pick out the Volcanic crater that created the island, you can see where, hundreds of years ago, part of the rim has been blown off. Approaching from sea, it is spectacular, because you see not only fertile Ischia, but Procida and in the distance the Italian mainland.
Porto Ischia is full, so we proceed to Casamicciola, moor the boat and head off to explore.
Casamicciola is fairly quiet in the afternoon, just a few shops open and this is partly due to the heat.  Italy has been having a heat wave and everyone is inside escaping the heat. Casamicciola is vibrant in the evening, with everyone out for their passeggiaata, buying gelato and wandering up and down the waterfront. But now we jump on a bus and head to Ischia the town.  This is a much busier but very touristy part of Ischia. Lots of shops and restaurants with photo menus and masses of day trippers who come over from Naples on the ferry. After trying on a few pairs of shoes, we headed over to the Castello Aragonese.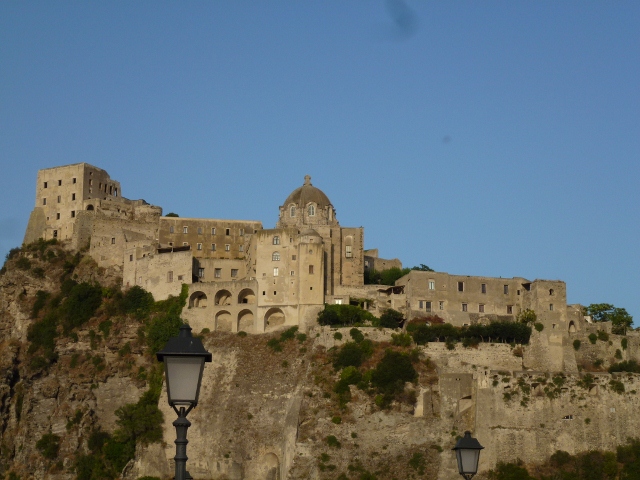 Wikipedia tells us Castello Aragonese, the fortress initially built by the  Hiero of Syracuse in 474 BC on an islet rock near Ischia. In 1441 Alfonso V of Aragon connected the rock to the island with a stone bridge. We were particularly taken with the sight of Mount Vesuvius from the bridge.
We wander around laneways and waterfront, saving hills and stairs for Sunday. We had a wonderful dinner at Ristorante da Ciccio with the venerable Mr da Ciccio and the lovely Carlo bringing us wonderful food, with beautiful music and a peaceful ambience in busy Ischia.
Sunday morning, we headed off to Giardini La Mortella (Place of the Mrytles), this stunning garden was started in 1956 by English composer, William Walton and his wife Susana.  They purchased this land in a disused rock quarry and they collected specimens from all over the world to grow in this rich volcanic soil.