Anne and Cam joined us in Ischia and we took a long and winding bus ride to San Angelo and the beach there. We thought there were also hot springs there, but later we found you had to jump into a water taxi to get to the hot springs. What we did find was just a nice beach after the long walk down the hill and the water was like silk and a perfect temperature. The showers afterward were bracing and cold and gave us the energy to walk back up to the bus stop.
We actually ended up off the main road and seem to be walking through passage ways between houses, built into the hillside.
Monday, we did a short trip over to the very unspoilt Procida. This is a very small island with very little concession made to tourists. We were in a wooden docked marina across the island from the largest town, at Chiaiolella, nothing near us but a few small basic cafes and a lovely beach. (Cam and Anne the water babies, say "what more do you need?)
James and I took the local bus over to Porto and if you can imagine a mini bus packed full of people hurtling through one and a half lane streets, no side walks at a breakneck speed.  Ah, I see you think the house are built back from the road, or that's it one way – none of that.  At time you were looking straight into someone's window and felt like you should say Sera! or you are holding your breath as we pass another car going the other way. You can't see daylight between them. Suffice to say, Procida isn't a panel's beaters paradise because they just leave the dents in.  Cam and Anne saw one scooter had a the whole of the front fender held together with sticky tape.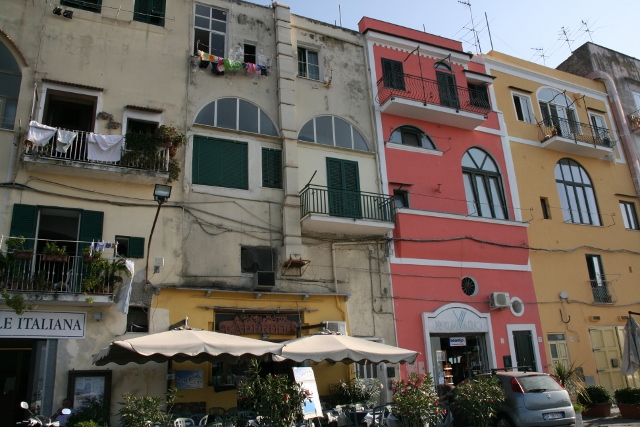 Porto was a lovely place, a bit shabby on the paint job, but with vibrant lovely people and lovely shops selling gelato, watermelon and wine but not many tourist tacky items.
Tuesday found us going south to Capri. Capri wants you to email them for a berth, which we had done days prior but didn't receive an answer until we were underway. Sadly, they said no they were full, so we knew we would be anchoring in Marina Piccola, in the south of the island.
We decided to go via the famed Blue Grotto, but there was a swell and a sea way, so we couldn't take the dingy in.  On we motored to Marina Piccola and found a wonderful large bay surrounded by soaring limestone cliffs, a verdant garden of a town, stone ruins of a pathway leaping up the cliff face.
On the  south eastern side of the bay were Il Faraglioni, magnificent pillars of rock, which are often photographed and star in post cards, films and books.  They were majestic and we went over to see them close up and you see there is an arch in one of them. Staring up at them from the base, you realise their roots go all the way over to Sorrento, of which they and alll of Capri, were once attached.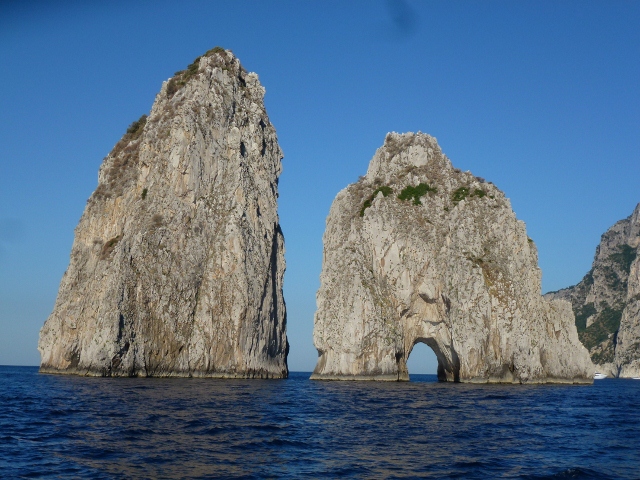 A westerly swell came in with 15 knot gusts of wind, so James and I stayed wiith the boat, while Cam & Anne went ashore. We would be so sad about this turn of events but we hope to be back next May and we will spend a few days in Capri.