Where to begin? Our DAR friend Gayle was talking to me for months about the Captain James Cook Society, a world-wide society who study Captain Cook and his travels. When we said we were coming to Anchorage, Gayle said she would be our tour guide.
Our first port of call was the statue of Captain Cook overlooking Resolution Park and the silted waters of Cook inlet.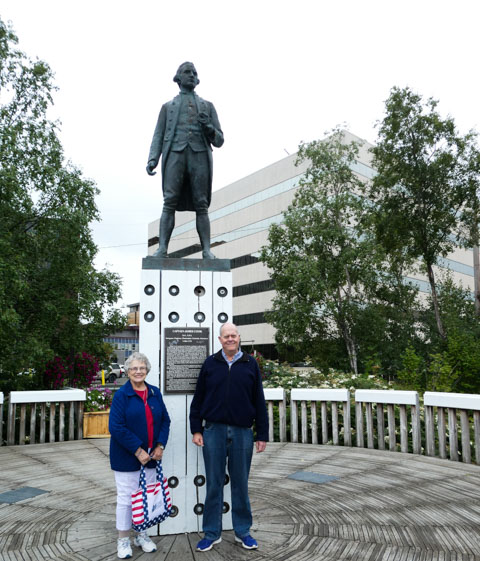 Followed by an informative tour at the Anchorage Museum, with erudite docent, Nancy Britton. If you can visit the Anchorage museum and have a tour with Nancy, your appreciation of Alaskan First Peoples' live before and after First Contact will be greatly enhanced.
Literally at dawn the next day, we boarded the train to Seward.  We had booked the dome car, with 270 degree views and plenty of scope to go outside to see the verdant or frozen Alaskan landscape.  We passed several glaciers and learned that there are over 100,000 glaciers in Alaska. There are 616 officially named glaciers.
The photos of the lakes and icy water were taken from the inside of the train and are not photo-shopped. It is cold in Alaska but it isn't windy like Sydney. The water of the lakes were perfectly flat and acted like a mirror.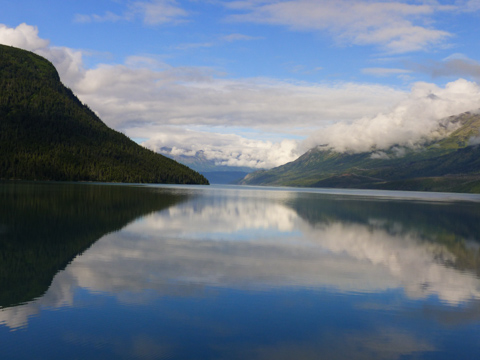 Gayle took us to Sea Life in Seward and it was great to see puffins, otters and seals. The seals seem to interact with the children.
Thanks to all the lovely people in Anchorage and in Seward who showed us such wonderful hospitality. It was special.