Cagliari is Sardinia's capital  as well as it's largest city. As a town it is very large and spread out, so we only saw some of the sights. Cagliari's history, starts with the Neolithic period and like all of Italy has had many rulers throughout the ages.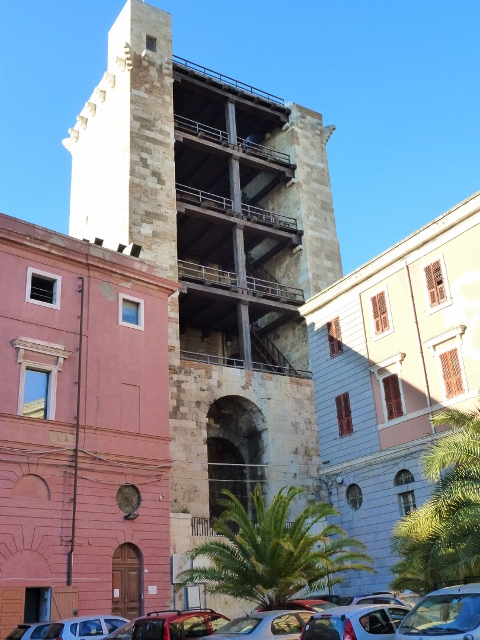 The Castello is a Pisan fortress up above the Marina district and it has several gates and two towers.  Towers mean stairs which also means stunning views from  the outdoor cafes looking onto the whole city.
In the east of town is a beautiful and busy beach called Poetto. It was absolutely alive with teenagers, all being seen on the beach.   Nearby, are the salt marshes, which are home to the graceful flamingoes that fly over the city just before sunset each day.
Two days in Cagliari were spent on boat maintenance, which means we will have to visit again to visit the Flamingos and the wineries.
We have a certain number of 'Euro Days' – we only have 90 days to spend in the Euro Zone every six months. While we wanted to visit a bit more of Cagliari, we have to be out of of the EU by the end of July.  This informs our decisions about how long we can stay on each island or in each port, so that we get to Corfu and out before our time is up.  Luckily at this stage, Croatia hasn't signed the agreement so after our 'Euro Days' are up, we can spend several months in Croatia and also hope to see Montenegro.
We had a very light wind with calm seas on our passage to Sicily from Sardinia.  It was warm enough to camp in the cockpit and we both stood watch while the other cat napped. It was very serene and then suddenly we had a small pod of dolphins come and travel with us for about 20 minutes, but this was the comedy troupe.  These young dolphins were doing belly flops, side flops and surfing the bow wave with great enthusiasm.  They loved our applause and seemed quite happy to pose for photographs.
In Osti Antica, dolphins were an oft repeated mural in the warehouses and shops. Dolphins were very popular with the sailors in ancient Rome and now. A pod of dolphins visiting brings an infusion of enthusiasm and laughter and we were both energised by their gymnastics and happy spirit.
Our next port is  Favignana or Odysseus's Goat Island in the Isole Aegadi group. We look out into the distance and think we can see them rising out of the mists.