We took a 40 minute bus ride to Trapani, a busy port we sailed by on Monday.  As it is a commercial port, they have many additional rules to follow and the port isn't as clean as San Vito lo Capo.
Trapani has a beautiful old Centro historico and a lovely park. It is a very big town, but we went down to the port and old town and wandered around looking at the almost patchwork of different architectural styles, as Trapani has evolved over the centuries. Each church isn't only influenced by the order of priests but of the time it was built.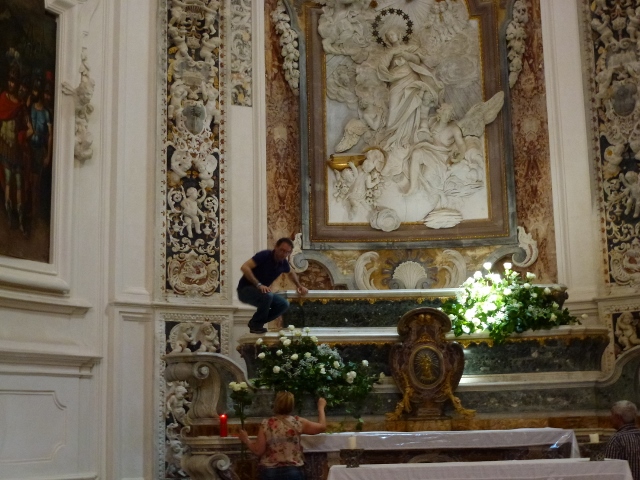 We also enjoyed the green space of Villa Margharita, with old giant figs and geese and other birds in enclosures. It was a cool place to be in the midday heat  and there were quite a few tourists there, because other than a few restaurants, everything closes for several hours at lunch.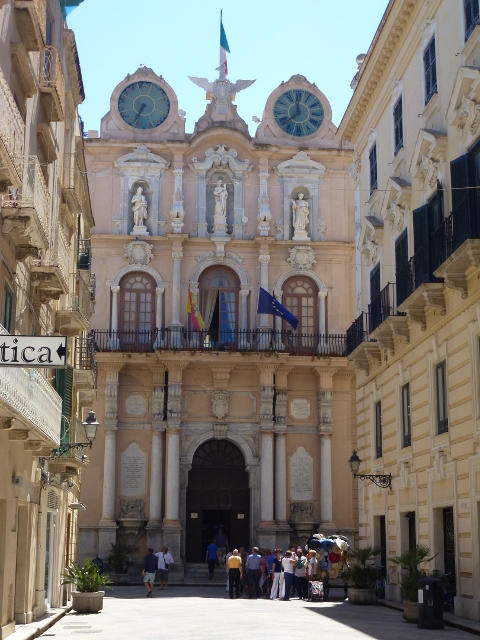 Some of the buildings in the Corso Victor Emmanuel and the Palazzo Cavarretta are so Rococo giving the impression they are made of nougat and meringue.  In the afternoon, we were on the old wall over looking the sea, which in the mornings holds a market and discovered a Gelateria who had beautiful ices and gelato, but also pastries.  The cannoli shells were there above the gelato and you could have your shelf stuffed with ricotta ice cream or the traditional ricotta mixture. We sat outside on ottomans and enjoyed the ambience.
Back in San Vito lo Capo, we walked along the foreshore and then along the beach.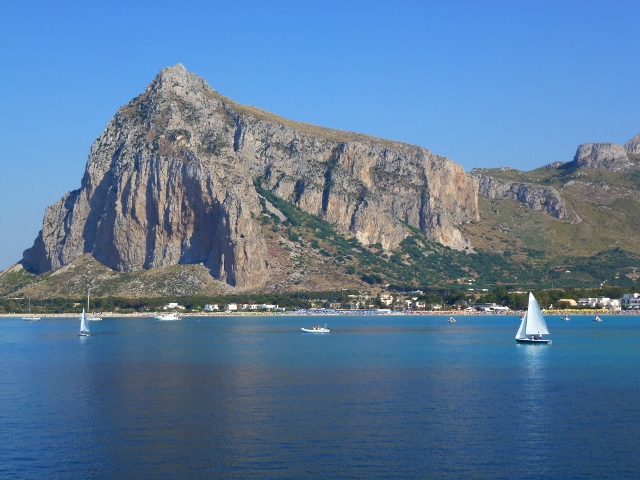 We had read quite a bit about the September Couscous festival and decided to go to a couscouseria for dinner.  We both ordered different flavours of couscous. They first create the broth to go with your meal, mine was a broth of citrus and tuna; James had a tomato based broth with mixed seafood.  But each of our couscous was a match to our broth.  James' couscous had a tomato colour with prawns, shrimp and fish. My couscous was a brownish hue with almonds, citrus and eggplant.  You then spoon the broth from your individual bowl onto your mound of couscous.  It was very tasty and quite a different presentation.  Not the generic couscous that we have prepared with meals,not the much plainer alternative.
This morning we sailed off in a wonderful procession of boats to Zingaro, water temperature of 24 degrees, so we anchored and swam with half a dozen other boats.  Then we continued on to the feudal village of Scopello, with it's craggy rocks off the town, one with an ancient fortification perched atop of it.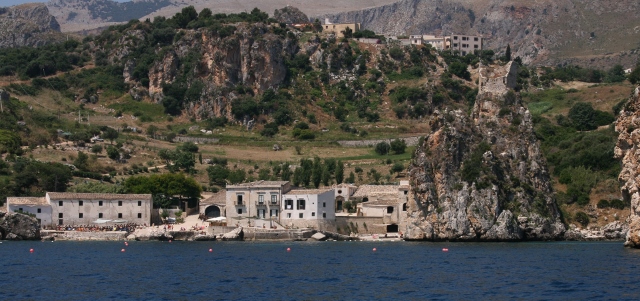 Finally we reached Castellammare del Golfo, we wandered up to the old Castle and looked back to the boats in the harbour.  It was siesta, it's taken very seriously here.