Yesterday, we spent a very quiet day at Vulcano, one of the two active volcanoes in the Aeolinan Islands.  The smell of sulphur is redolent over the island and even out on the boats, it wafts out on a continuous cloud belched out by Vulcano.
We had just anchored and we looked up and saw a water spout hanging from a increasingly dark cloud.   We race for the cameras, hoping the water spout will keep going and pass us all by.
The water spout does disappear, but we have a sudden intense squall. In thirty minutes, the rain moved away and just an hour later the beach was pink and golden in sunset.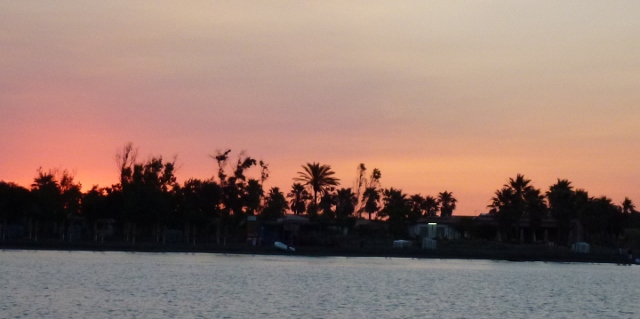 Today was a red letter day, we were up early to be on our way to catch the right current to take us through the Messina Straits.  Here is where Odysseus had to worry about Scilla and Charybdis.  Water spouts are common and one book wondered if it was a waterspout that carried off six men.  There are whirlpools at several places along the straits, not as strong now as in antiquity but I wouldn't like to be caught in a squall in this narrow funnel between the Ionian Sea and the Tyrrhenian Sea.  The current is visible in the Straits and going against it is very hard work. The Swordfish boats are quite unique and there were several trying to sneak up on sleeping sword fish as we were coming through the Straits.
We had a look at Messina this afternoon, the Duomo's Bell Tower is fascinating.  Messina itself is very new, compared to Italy in general, first it was flattened in a earthquake and then heavily bombed in WWll, some beautiful old buildings are still standing.