It is 'festa' time in Valetta and Malta, fireworks day & night, church bells ringing and general music playing at all hours of the day.  Yesterday, we decided to escape Manoel Island and go to Città Vittoriosa or Il Birgu on the Grand Harbour.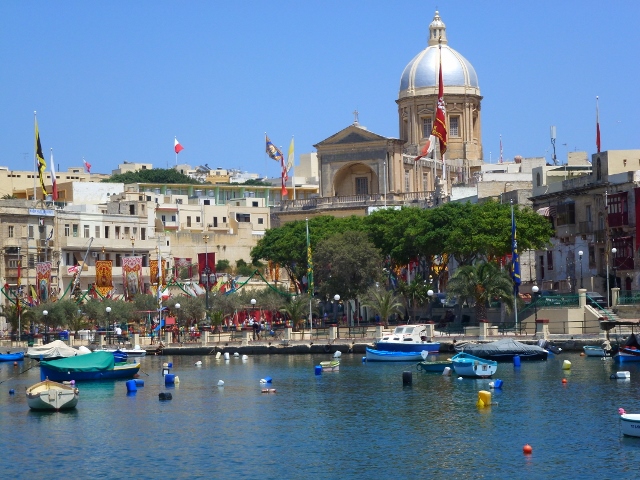 We took a bus to Vittoriosa and then took a traditional Maltese dghajsa or Maltese gondola across Grand Harbour.  Grand Harbour is a huge natural harbour right next door to Marsamxett Harbour, which is where Mercier is berthed.  It was fun to see Il Birgu also dressed up for Festa where not only did they have church bells but a rave going on.
Here we are in a small gondola, looking up at pontoons of Super yachts and Mega yachts.  We are deposited in Valletta on the waterfront. The gondola driver points to a big tower lift and says that will take us up to Valletta to Upper Barracca Gardens.
Time to get back to Mercier and meet Stu Williamson, a great friend of John and Jenny's. Stu is currently working in Malta and took us out and showed us a bit of Sliema, after a quick drink on Mercier.  We have a sworn affidavit attesting the noise levels and the daytime fireworks.  Stu has been in Malta for awhile and he couldn't answer our question: why the daytime fireworks? either.  Still sitting on the balcony  in the evening, watching the moon rise over Valletta, with beautiful fireworks going off every ten minutes or so, we did enjoy the lights over the harbour and the very congenial company.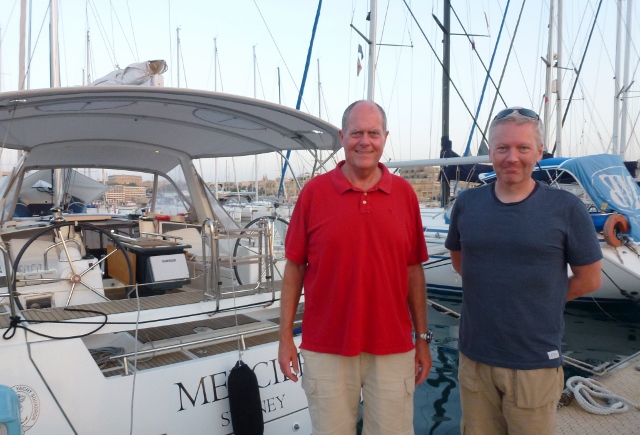 Birthdays are coming up: Happy birthday Barbara for the 14th, glad you had fun in Berlin.  Auguri Carmelita, for the 15th and Ed Earl, a very happy birthday celebration with great friends and most importantly – great advice. Very importantly, Bon Voyage to Frosty and Louise, travel safely.