It was a pleasant motor from Riposto to Catania on Monday morning. Even as we were leaving Riposto, there were more fireworks (Are they trying to move pigeons or seagulls??) and the Church bells were also wishing us farewell.
One reason we are on our way to Catania is due to a rumour there is a Nespresso outlet for coffee capsules.  We stocked up in Rome but felt we could do with a few more, so a Nespresso shopping spree is on the cards.
We are in the Porto Vecchio and we are right across from huge ferries and ships, in a small club marina.  We can look across and see the Duomo and walk into town. This is an exciting activity, as stopping for pedestrians in a cross walk, seems to be optional.
Many buildings are old, baroque in fact and are quite beautiful.  The streets are fairly dirty and littering isn't a concern for many people here. There seems to be a fine layer of black volcanic ash on much of the city.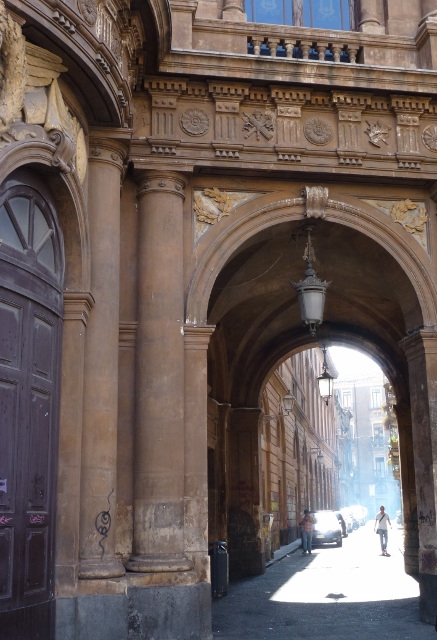 Perhaps it adds to an air of fatalism that seems prevalent here, to keep something to clean and shiny is pointless because Etna is going to blow up as soon as I clean it, meh.  Catania has been buried under lava seventeen times in recorded history" says Wikipedia. So perhaps there is a reason for their fatalism. They also use lava rock to rebuild the city.
Wikipedia says:
"The symbol of the city is u Liotru, or the Fontana dell'Elefante, assembled in 1736 by Giovanni Battista Vaccarini. It portrays an ancient lavic stone elephant and is topped by an Egyptian obelisk from Syene. Legend has it that Vaccarini's original elephant was neuter, which the men of Catania took as an insult to their virility. To appease them, Vaccarini appropriately appended elephantine testicles to the original statue."
Vaccarini also designed the Badia of St Agatha, a small and most beautiful church across the street from the Duomo. According to our guide,there are 600 churches in Catania and 11 dedicated to St Agatha.  We went to the Badia twice and in the evening there was a wedding going on, with candles reflecting warm light onto the chandelier. It is a small magnificent jewel and I think Vaccarini should be better known as an architect.
Villa Bellini is a lovely green garden in the city and fountains abound in the piazzas . The piazzas were built as a meeting place during earthquakes. Weather permitting tomorrow, we will go to Siracusa.