We decided to head directly to Portofino from Imperia, a full 8 hour motor sail, with the main up and the genoa rolled in and out 3 times due to wind variations, still it was very pleasant. The trip was punctuated when we were almost there, by a whale sighting. We think it was a moderately sized sperm whale, a joy to see in the wild.
We arrived at Portofino around 4pm, but decided to stay in the neighbouring harbour of Saint Margherita Ligure which is far more protected from the sea and it's swell.
This morning we made the trip back to Portofino in the Zodiac and really enjoyed the town.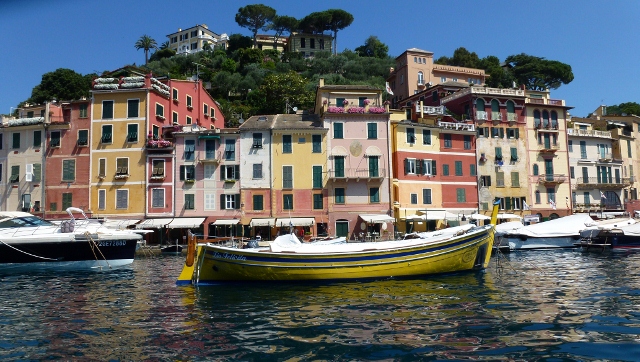 We hiked up the hill to the church and castle, with spectacular vistas on the way.
Portofino is a small but perfect jewel. We enjoyed the Italian vista with slender pines, gums and shrubs. Very green with pastel houses of lemon, pink, tangerine going up the hills around the harbour.  The small local boats were all brightly coloured with deep reds, yellows, blues and greens.
Last night we sat on the bow of the boat, in the breeze, looking at Santa Margherita, shining with lights and church bells pealing, we were so happy to be able to enjoy this part of beautiful Italy.