Finally all the repairs and extras are organised and we are ready to go. Simon Crutchley, our dealer, who looked after Mercier so well, came to farewell us at the dock.  Hard to imagine not seeing Simon every day, as we have been in such close contact for the past few months.  We are sure that we will see him next summer if not before.  Simon might even make it to Sydney.
We left Palma Harbour and sailed south and then west, stopping for our first swim of the season and lunch at Isla Malgrats.  The highlight of this was showing Rene and Blue the stern of the boat turn into a swimming platform. It folds down to make getting into & out of  the water so easy.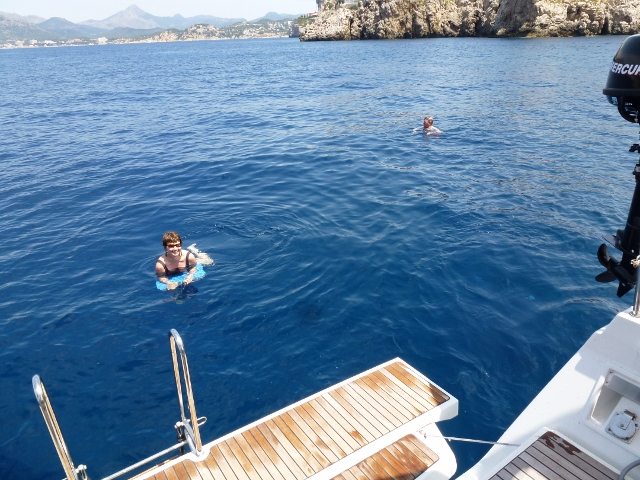 The water was brisk and the cliffs and rocks in the area were imperious. There was a little grotto in the rocks just behind us. Small blue fish swam up to the boat to collect any tiny bit of food that went over the side.  They were voracious as well as beautiful.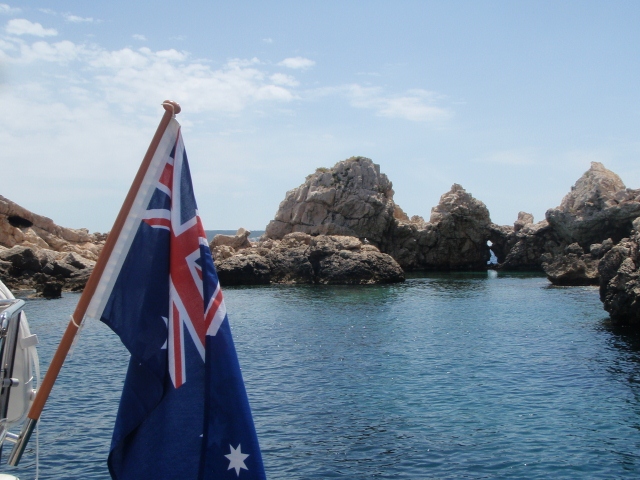 After lunch we sailed to Andratx and went for a wander along the waterfront.In Palma, one of our favourite restaurants was Rossini's, with their amazing tuna carpaccio.  At the end of the waterfront, here was Rossini Mare's, a sister restaurant, so we had a little glass of rose and tuna carpaccio on the waterfront.
A lovely day to begin the next stage of the journey. Happy Birthday to Linda, Bobby and soon it will be Allysia's will be soon.
Here's Rene, and more photos.
What a wonderful day to start our journey round the island of Mallorca, firstly Happy Birthday to my little bro Bobby turning 50….ahhh, well we are fully loaded with water, diesel and food, gentle breeze and blue sky….after a short motor stopped for a swim and lunch then off to Andratx, incredible blue water :)lots of super yachts dotting the bays…..overnight here then heading to Soller tomorrow 🙂
Still pinching myself !! would recommend an early booking with 'Mercier' for next year !!
Love to all, Rene and Blue 🙂 🙂