Termini is the next stop out of Palermo, the old town Termini is around the port within city gates, the modern Termini Alta is high on a bastion wall and has wonderful views out over the sea and the lower town.  There is train service, which makes it a good port for crew changeover.
Termini has a very large port and they are upgrading all the facilities and putting the smaller boats in a marina closer to the rocky beach and creating an entertainment district with discotheques and bars in the area. Still work to be done there, but a nice jazz bar on an old boat.
There were views to be seen and so we began our walk up the hill, viewing an old Art Deco hotel, we walked over and peeked inside. It had seen better days but was a lovely old hotel.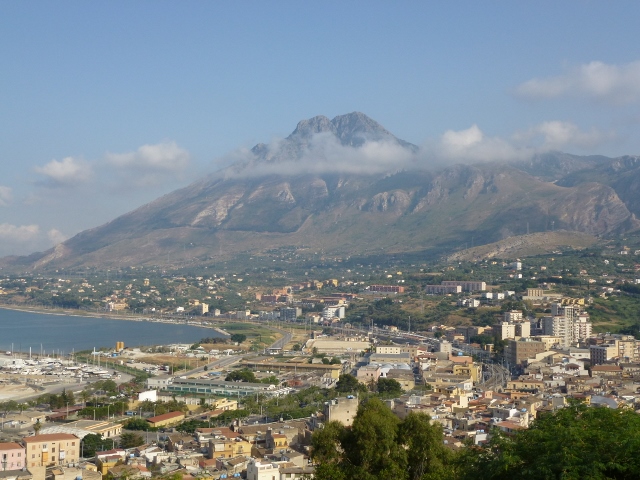 There was a switchback road with stairs and so we began our climb.  This is a very workaday town, not really a tourist tidy town.  Nonetheless, Termini Alta had a wonderful charm, a lovely walk along the bastion, looking over the port and the mountain, San Calogero which overlooks the town.
The big surprise was the Via Roma, a  long flat-stair case street, that links the two 'stories' of Termini. There is a Sicilian photographer, Michele Salvo, who captured it in 1920, you can see it here: http://photo.net/photodb/photo?photo_id=1941363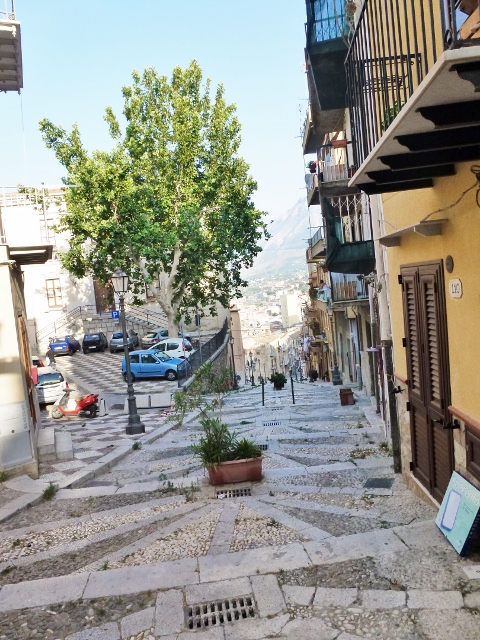 We were walking down this beautiful street between homes and we turned a corner and all of a sudden we were in the shopping district. Shoes and clothing shops were everywhere, the side walk was about six inches wide, cars had a bit more room. There were surprises around each corner.
The next morning we had a full ten hours of motor sailing to take us the Aeolian Islands.  We had planned to anchor in Isola Filicudi but the anchorage would have been exposed to the sloppy swell, so we decided to press on to Isole Salina.
A New Zealand boat preceded us into the marina, so we waited until they were tied on and then moored stern to next to them.  There were three  lovely Kiwis on board C'est Ma Vie, owned by Graeme Duncalf, with crew Neil Strom and Brian Reid*, all ex-Cherub sailors. [It is everything I can do not to make Cherub jokes, restraint is a necessary part of valour. It is Italy, there are cherubs at every turn.]
We had drinks on board C'est Ma Vie to watch the sun go down and the Super moon come up.  There was a discussion of where we all were going and where both yachts had been.  Then Graeme said, " I have friends in Sydney, from my Cherub days, The Wilmots and also a bloke named Geoff Davidson."  We laughed. When I said who did you sail against Jamie or Bobby, he said "Actually Janine and Mandy"
It is hard to explain how good it was to be speaking English [of sorts]  and also good to share stories about The Wilmots and Davo.  Graeme said he had both his legs, because Davo warned him off swimming or windsurfing in Middle Harbour because of all the sharks. I had to tell Graeme about Davo saving me from the Killer Goanna one Christmas holiday, so we agreed Davo knows about dangerous animals. Crikey, there might be a job for Davo in TV.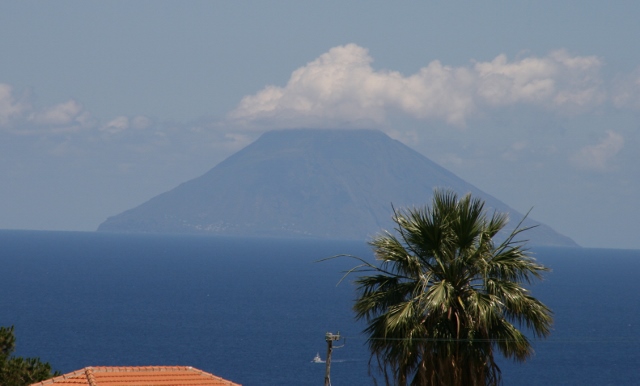 Ciaobella, until Lipari.
*PS note the change of surnames for Brian and Neil. Our wonderful neighbours, John and Jenny, who are originally from NZ, emailed to tell us we had the surnames wrong.  They identified Neil and told us what a top bloke he is.  Two degrees of separation.