The first thing we noticed about Favignana, an island 7 kilometres off the coast of Trapani, is the crystal clear water. We look at the plotter, which tells us we are in nine metres of water and we can see the bottom. The clarity is beautiful. We are in Italy's largest marine reserve.
Many of you will say that you have never heard of Favignana, but if you read Homer's Odyssey, in a bid to extract yourself from high school, you will know it as Goat Island. This island was the last stop before the Cyclop's island and was full of goats, which fed the big O's crew for awhile.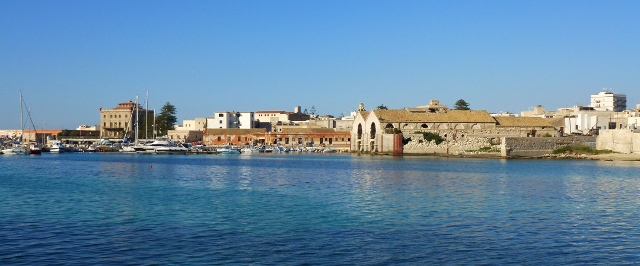 From the 15th Century, the island was famous for it's tuna catches and fishermen. In the 19th Century, a wealthy industrialist, Florio built a major tuna cannery on the island, bringing prosperity to the small island and its inhabitants.
The Arabs were here in the early Middle Ages and they brought the ancient fishing technique called Mattanza, trapping scores of bluefish tuna.  They seemed to be on very long flat boats and they had enormous anchors to hold them fast.  When they switched to long line boats, many of these anchors came onto the beach – a veritable anchor's graveyard.  Behemoth anchors rusting in silvered wood on the beach near the marina.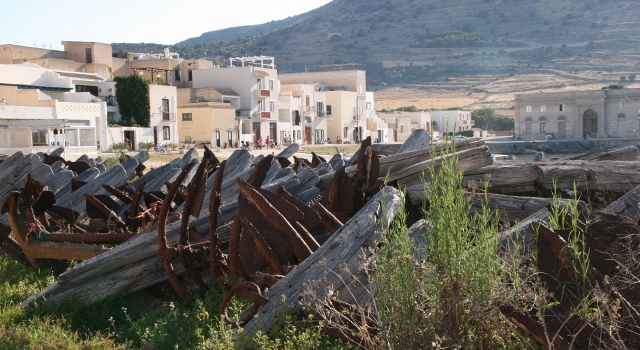 We were here on a Sunday, so we weren't surprised at the number of people riding bikes, scooters and eating gelato even before passeggiata.   Just before sunset, a ferry  came in and engorged a large number of tourists, back to Trapani, home and work on Monday.
Monday found us on our way to San Vito lo Capo on the Costa Gaia, one of Italy's most beautiful beaches. San Vito explodes with colour as you approach the beach before turning into the marina.  Brightly coloured umbrellas, beach towels and cossies across the light sand beach animate this patch of Sicily's coast.
Unlike most of the ancient ports we visit, San Vito lo Capo seems to have been developed in the early 1950's.  The main street reminds me of Coney Island without the rides, lots of lights, souvenir stores and Havianna stores up and down the street. We will explore a bit more today.