Another dawn with the island of the Hiva Oa in the distance. The mornings are so magnificent; golden light on  billowing clouds.
Aranui is ready to negotiate a small harbour, with a very small and restricted docking, and several yachts anchored right in the way. The ships captain blasted the horn three times and we could see the yacht crews springing to life much earlier than they would have expected. The barge and the life boats were unloaded and went to help the hapless yachties reposition themselves.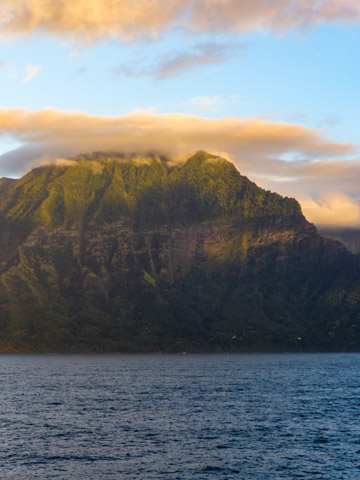 We were fully absorbed in watching the captain dock Aranui in this diminutive harbour. I was incredibly thankful that it wasn't my yacht in the way of a ship in such close quarters. Here is a photo of Aranui, once she has docked.
Hiva Oa is where Paul Gauguin spent the last two years of his life. We did the walk up to see the graveyard, where he was buried and then walked into the city to visit his last home and the Gauguin museum. We hiked directly up hill from the dock to the cemetery.  Like so many cemeteries, it has the most beautiful view down the hill and over a harbour.
Gauguin was in trouble with the church and he was in ill health. Hiva Oa was his last refuge. Didier Benatar gave us quite a wonderful talk about Gauguin's life, his troubles with the Church and the politicians too. Even though the Church didn't approve of Gauguin's life style, they did bury him in the consecrated ground of Calvary Cemetery. More to better to keep an eye on him, than to grant him dispensation. The statue is not a Madonna but perhaps a copy of his ceramic, Oviri, a goddess of Wildness.
Gauguin had visited Melbourne, Sydney and then Auckland and he was very taken with the Maori's way of building their houses and when he came to Hiva Oa and sent some money he did build a whare whakairo. Today that is part of the Gauguin Museum on Hiva Oa.
In this glorious setting, at sunset, we have a Tahitian dance class with the men learning a Haka and the women learning something more graceful. This isn't your typical dance studio.