We are in the Aeolian Islands, aka Lipari Islands.  I have been under the misapprehension that these were two separate groups of islands.  Lipari is the largest of the Aeolian Islands and people use the names interchangeably. These islands are all volcanic with two active volcanoes.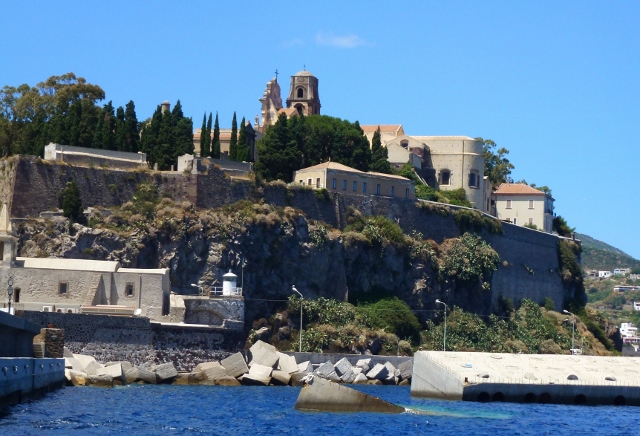 We met a very nice lady from Manly, who inherited a house on Lipari from her grandparents. She was born and raised in Sydney, but now spends her Australian winter here in Lipari.  After WWll, 23,000 people left the Aeolian Islands, mainly for Australia and a lesser amount went to Argentina. Many of those people still live today in Five Dock.  In fact the owner of the marina we stayed in, the excellent Eol Mare in Pignataro, has family in Five Dock.  On the beach in Canneto, we saw an Aussie flag waving proudly.
Eol Mare, Pignataro  is about 2 kms out of the center of town, with plenty of bus services and taxis. We thought a hotel van was the bus on our first day, we waved him down and he gave us a lift into Lipari.
The marina's in town played a breathtaking game of Duelling Masts, in fact, the advice is if you stay there sandwich yourself in between two motor boats, so you don't have to worry about your mast being dealt a death blow from a larger yacht. We were watching two masts one afternoon and we couldn't look away. Lipari has every type of sailing vessel known to man and the effect of the wash was terrible to behold.
We took a walk up to the Cathedrale di San Bartholmeo with more of the steep flat stairs to negotiate.  We had heard the paintings were of a high standard, but what was fascinating was the door to the old Norman Church, circa 1053, which became a Benedictine Monastery.  It was very rustic and the old columns were re-used Roman Columns. There were also tiled floors in a partial reclamation like those we had seen in Ostia Antica.
Yesterday, we went on an excursion to Panarea and Stromboli, stopping for a swim off the coast of Isola Panarea and then going to the village of Panarea, which is very stylish and trendy.  If I were coming to the Aeolian Islands, I would be quite happy to spend it on Panarea, the islands was beautiful.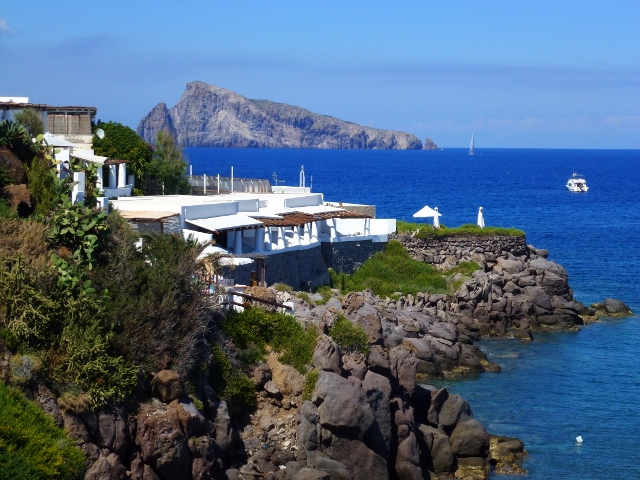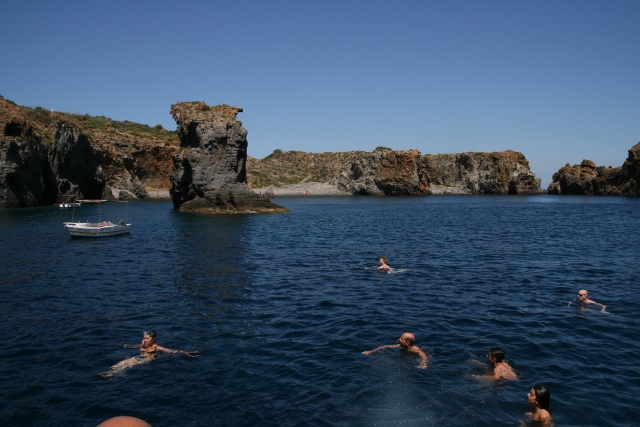 Off we went to Stromboli, which Heikell says is the original lighthouse. You would be able to chart your course through the Messina Straits by charting. Stromboli guided the Big O 'towards the twin perils of Scylla and Charybdis'.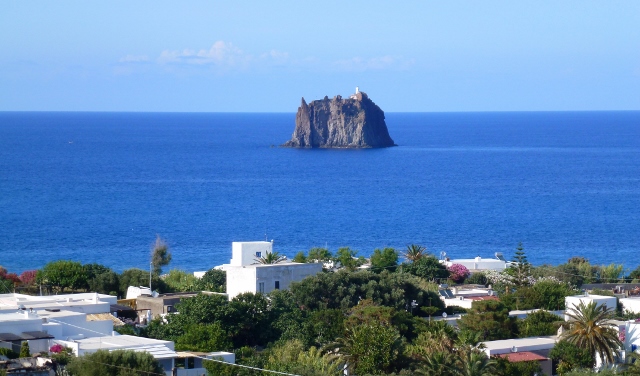 On the island, you see quite a bit of posted material on meetings points for earthquakes, tsunamis and a big blow.  The sand beaches are obsidian black, shiny and belie the fact, that while Stromboli seems tame, it may only be temporary.