We arrived in DC and Marian took us to Cherrydale, a suburb of Arlington, VA so that Kay could host us in their condo.  We walked up the hill to see Clarendon where we had lunch and explored the two neighborhoods. Trendy inner city neighborhoods that make it so easy to bike to work.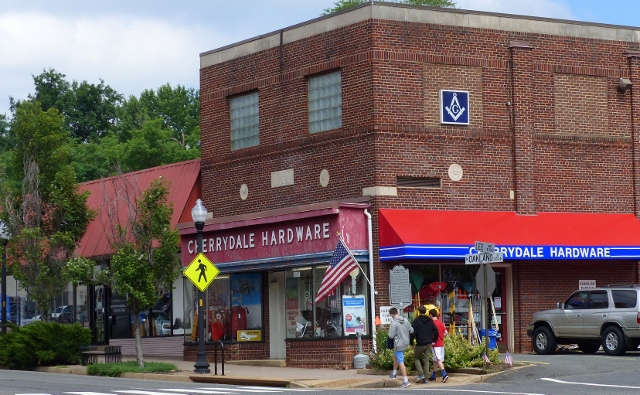 We met Charlene and Carolyn over the next couple of days, including a visit in the venerable building Constitution Hall, which houses the Daughters of the American Revolution and acted as a set for Alan Sorkin's The West Wing.
James and I had a day of sight-seeing in Washington, which is quite a movable feast. We took the Metro to a stop very close to the White House and watched as two policemen questioned a very suspicious character. Seriously, he spent several minutes talking to the two policeman and was still there when we left ten minutes later. DC is not the best place to wear a costume.
We meandered around the White House and noticed increased security in the area since our last visit, which was pre-September 11th.
The White House is still beautiful and serene, even with the barricades in front.
The day was blue skies with fluffy clouds and none of the humidity that DC is famous for. We walked all around the Washington Monument, really a monument to General George Washington, as it was being considered before he became president. It is a monument you can see for quite a distance and it often peeks out at you as you travel in Arlington and nearby areas.
We walked past several other monuments on the Mall and then went to the new Indian Museum at the Smithsonian. We had a great Native American luncheon and looked at the interesting displays. We covered lots of territory around the Washington on the Circulator Red Line bus, which does a loop around the National Mall at a very reasonable price. Other Circulator buses are also available and a bargain with a Metro card.  DC is not a place for cars, so my tip is to purchase or borrow a Metro card, load it up and then use public transport.
Cherry trees and magnolias are so evocative and reminiscent of the South generally. Indigenous to the Southeastern United States, they can grow as tall as 90 feet high and the blooms are magnificent. Their fragrance brings to mind evenings spent on porch swings.  Now we head North to the land of Yankees.