We left Sali after a beautiful dawn and we thought we would go to Iz.  No not Oz, IZ.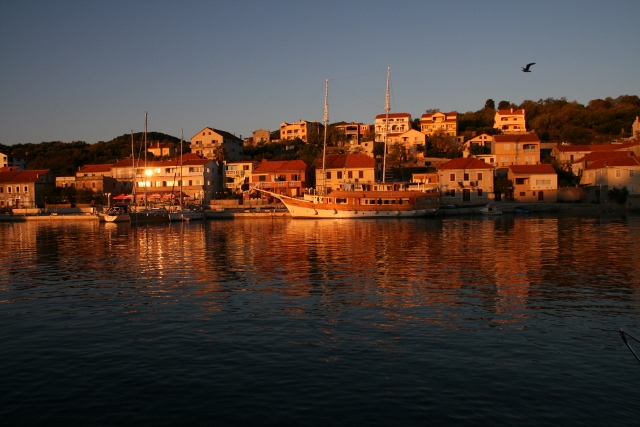 We thought we might get a swim in on our way and we sailed into a beautiful uninhabited bay, called Vodenjak.  There are moorings, the water is so deep, but we can see the block of concrete and unchafed lines. Perfect.  We have lunch and a swim and we read about Iz, which sounds very nice but Vodenak is perfect at the moment.
There are a few boats on moorings but many smaller boats are leaving, the perfect little bay is getting quieter and more wonderful by the minute.  A quick vote, Vodenjak – 3, Iz – 0.

The water was clear.  The clarity was such that you could see sea cucumbers inching around on the bottom 4 metres down.  Lesley had brought some ingredients for Thai Green curry sauce, so we made a wonderful dinner and enjoyed the stars.
The next morning, we motored over to Zadar, through the Prolaz Veliz Drela passage.  It was very calm and there was just a bit of current.
We sailed into Zadar and we were met by the ferries going in and out and by the traditional ferry man of Zadar.
Alex Crevar, in the NYTimes, has a great headliner, "After 2000 years, a Croatian Port Town Still Seduces" and he has some great facts.  There are Roman ruins, the main being a large area called the Forum and various columns throughout the town,  Zadar is home to the  oldest university in Southeast Europe – over 600 hundred years old.
Probably the bit we enjoyed most was the Sea Organ and Salute to the Sun, both designed by Nikola Basic.  Wikipedia describes the Sea Organ, as an architectural object located in Zadar, which uses the sea waves entering tubes underneath the large marble steps creating a  musical instrument played by the wind and sea.  The music was sonorous and clearly made children happy.  Dogs weren't as lucky, many dogs were clearly unhappy with some of the sounds.
While parents are happy to sit and stare off into a sunset, children aren't always happy to be so still.  With Basic's Greetings to the Sun, children and adults were interacting with the sunset and then dancing on the photovoltaic solar modules with no need to stop moving.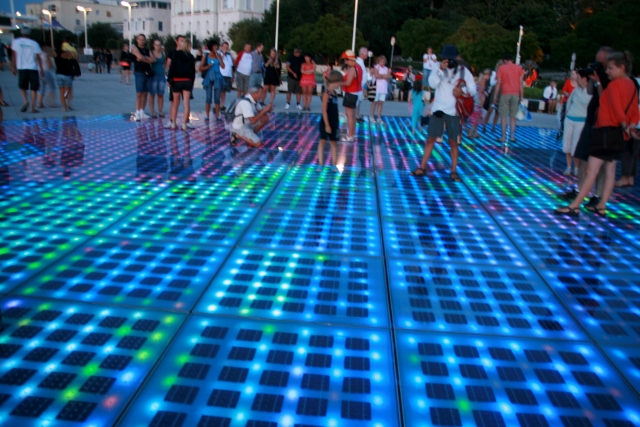 More on Zadar tomorrow, Alex Crevar picked the right title, Zadar does still seduce.