One morning in April, we were having coffee with Sandy and Ric Lawson at the Careening Cove room. They had met fellow Squadron members and Mediterranean sailors, Arti and Dimitri (Artemis V) at a RSYS Cruising Experience meeting and invited us to meet them for a coffee. This turned out to be a great plan.
If you like cruising, hearing about other cruisers' experiences can be beneficial in so many ways. You can learn about the best ports and anchorages, how to avoid a pitfall, new equipment and even which is the good restaurant or supermarket. Talking over coffee or wine about a shared passion is a veritable icebreaker. Let me assure you, sailing in the Mediterranean is a true passion and yesterday proves how effective a meeting over coffee can be.
Just let me go back a few days, Ric and Sandy met James and I in the Peloponnese harbour of Katakolon. The next morning we motored over to Zakynthos and made plans to meet Arti and Dimitri the next day, upon their arrival from Cephalonia in the afternoon.
Zankynthos is a beautiful island, so we hired a car and drove north. First we drove over hairpin turns to Kampi, which overlooks Schiza Bay, for a coffee. We saw a sign pointing us to Mycenaean tombs, which were carved out of rock on a hillside overlooking a verdant valley.
We continued up to the lookout of Shipwreck Bay. Here the limestone cliffs fall down to aqua milky water and a beach the colour of cream below. It is a place of incredible beauty, which always leaves me full of joy.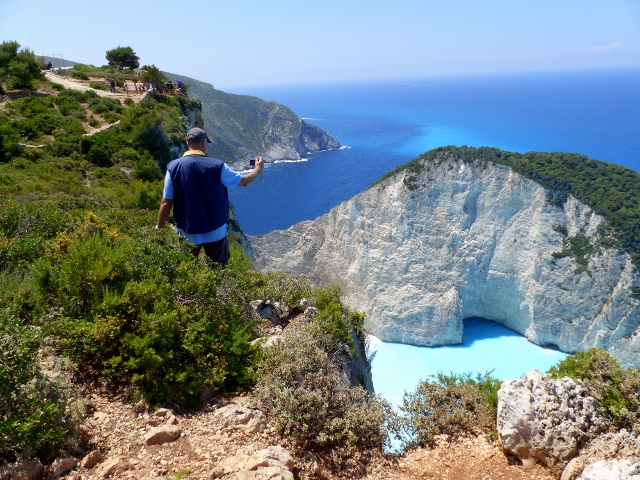 In the afternoon, back in Zante town, we see that Artemis is tied to the town quay and we go and say hello and make plans for dinner. Drinks on Mercier, Giostra di Zante – a local festival of Aeolian and Ionian dancers and then dinner.
Take it from me there is nothing better than Greek friends taking you to a Greek restaurant. We had local food: wild greens, briam, melanese, rabbit,beef, cockerel and pork. This was Yiayia's cooking.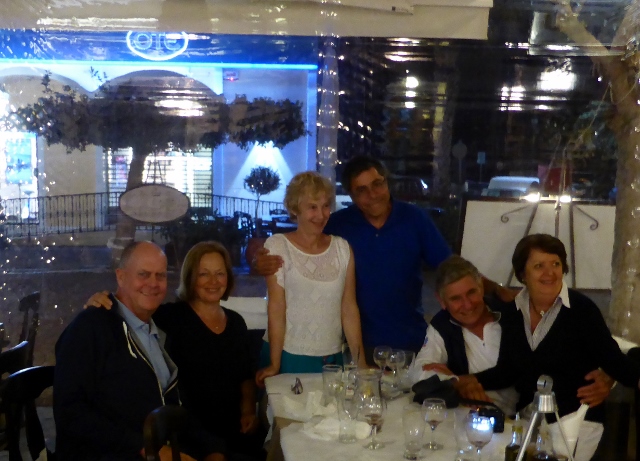 We had local music too and before they turned the lights out the ladies were being shown how to dance – in a Greek style. We might just have to find a Greek restaurant in Sydney.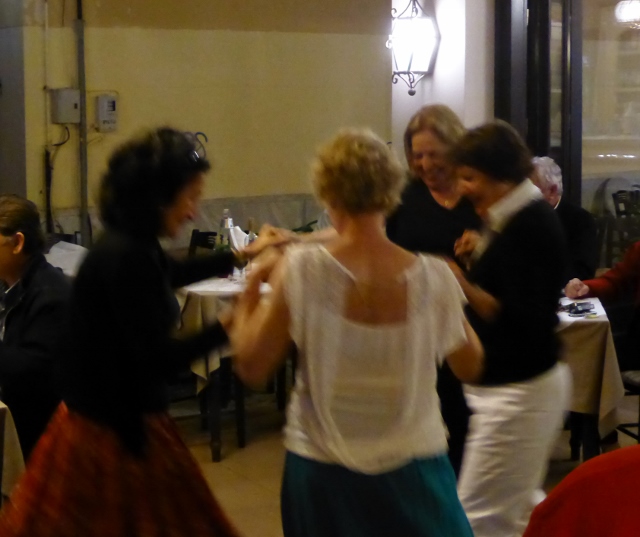 Fair winds and good sailing to Artemis V. Arti and Dimitri, we think you should have joined us.