We visited the very unusual island of Leros, which was a Mussolini experiment in Art Deco, though he never visited here. We had a wonderful dinner here rack of lamb for the boys and moussaka for Sue and I. The chef came out to see who ordered their lamb cutlets rare and then joined us after dinner.  The hospitality in Greece is amazing and Chef Petrino's moussaka with white aubergine was exquisite.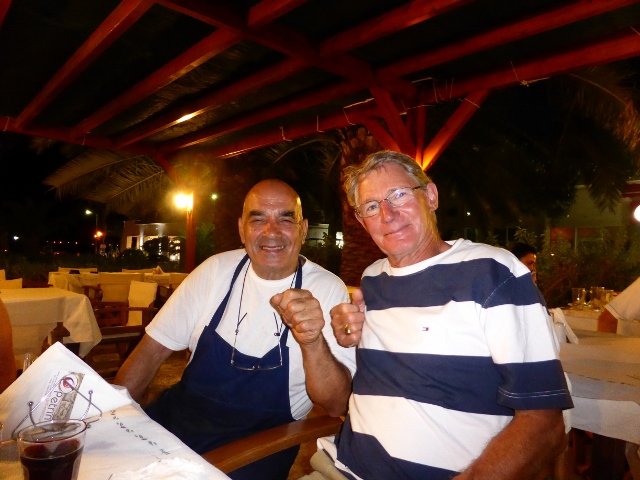 When we were in Tinos, Rosemary and Stephen had to take a ferry to Syros to make their connections home. That was because we were surprised by a meltemi at 5 AM. Mercier had to wait it out for three and half days. Here in Kalymnos, we have had a similar scenario. First we weren't able to get a berth a Kos marina, then our Finnish friends lay their anchor chain across ours and then the meltemi came in a big way. We are here for the duration. We decided on a tour of the island.
Sometimes, I think an island like Kalymnos decides that we have only seen its port, so it orders a meltemi so that we are forced to explore its beauty a bit more.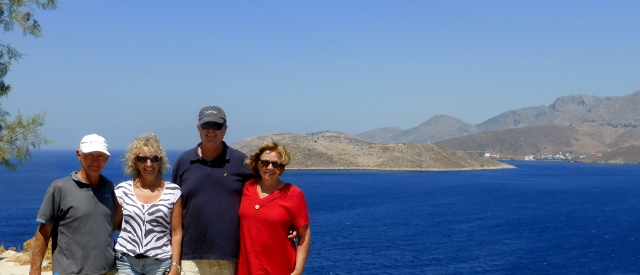 So on Sunday, we hired a car and off we went around the island. We found lovely villages by the sea at every stop and rich and fertile farmland in the center of the island.
We had a magnificent lunch with Eleni at Dreamcatcher, the food was amazing. It was all prepared by her family and the provenance was all explained. Great to have a swim, beautiful food and continue on our way.
We also visited the fjords of Vathi, which is a small but very dramatic anchorage and marina.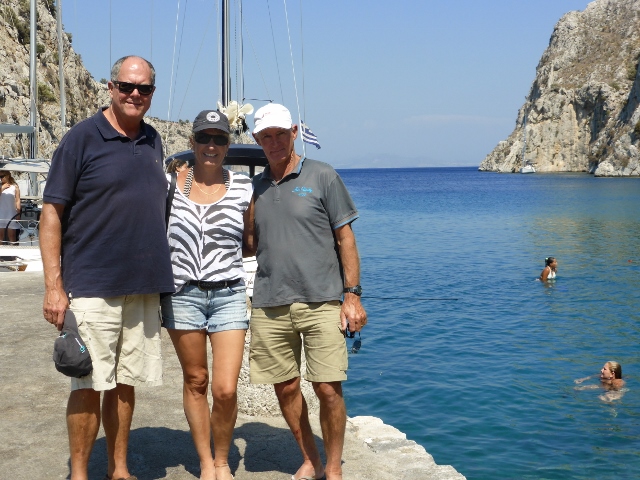 We ended the tour with a visit to a beautiful monastery of Nuns.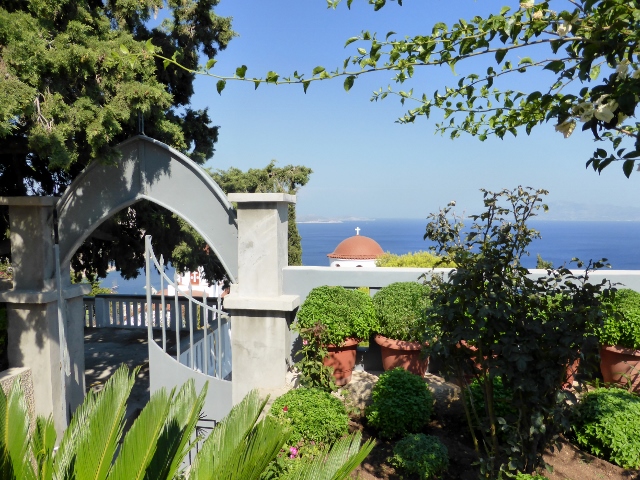 The Swannos put a ferry plan in place for Monday morning.  We decided to go with them have a last coffee and see them off to Kos. Luckily, they made the ferry because we were going early  for a coffee but it was a running dash.  Bon Voyage Swannos!