Mercier is now in residence at Athens Marina, a super yacht marina in Neo Faliro. There is so much to see in Athens, we felt we could wait for Rosemary and Stephen Merrington here, get over our colds and enjoy our fellow super yachts. The Athens Marina staff are some of the finest and friendliest crews we have met even though we are the second smallest yacht here. We thought you would like to see some of our fellow marina guests, that happen to be super yachts.
Everyone in Sydney is likely to remember Jeff Koons "Puppy", which graced Circular Quay for months in 1995.  We were also lucky enough to see the show that Koons put on at Versailles. Koons is a contemporary artist that most of us enjoy.
His friend, wealthy Greek art collector, Dakis Joannou requested that Koons paint the exterior of his 114 foot yacht, Guilty. Outrageously eye-catching is such an understatement. If you are interested in art (Louise Sullivan), google to see the yacht created by Ivana Porfiri, including its sumptuous interiors.
Another yacht came into the marina, 'better place', a Wally Yacht.  Wally Yachts is a company founded by Luca Basanni and now manufactures its futuristic motor yachts and sailing yachts in Monte Carlo. Ian McGregor reminisces about his time on a Wally Yacht in the movie, The Island. 'better place' is a 50 metre round the world yacht. Again, Google to see interiors, we haven't been invited aboard.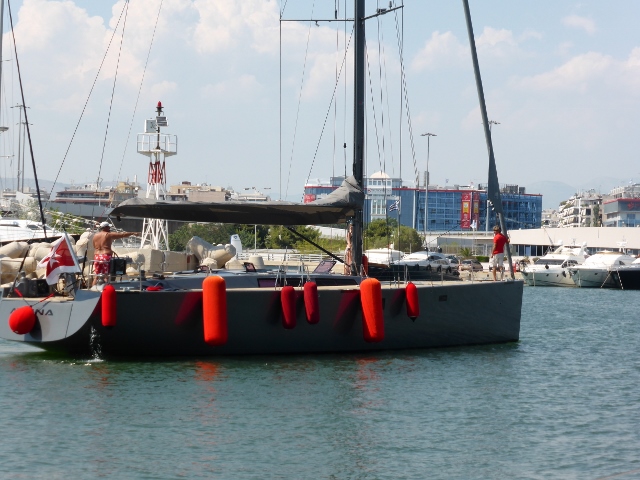 Our own luxuries go to smaller items, but in Athens we found that Magic, known in Australia as Magnums, have a new concept. They have a bar full of sprinkles for your self selected Magic.  Not candy sprinkles but almond slices, pink peppercorns, goji berries, carmelised hazelnuts, dried pineapple, coconut and a myriad of another 20 possibilities.
They ask if you want to dip into dark, milk or white chocolate, then he mixes your assortment of 'sprinkles' in a cocktail mixer, dips your ice cream and then drizzles on another chocolate for presentation.  Magic gives you wifi and a frame, so you can take a foodie photo. What a concept to celebrate 25 years anniversary for Magic here in Europe.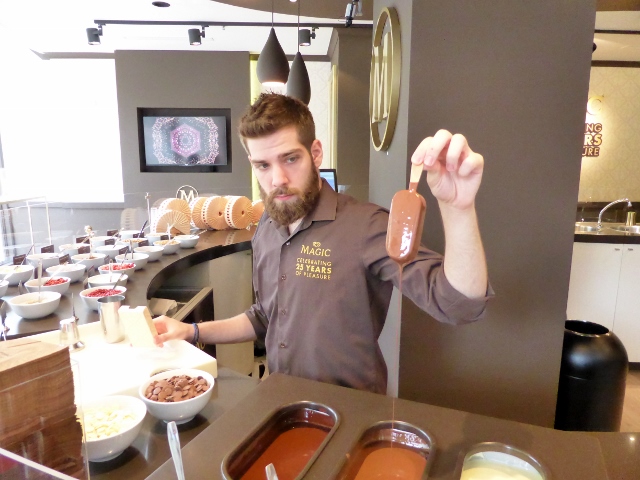 With luck and fueled by Magic, we hope to be off to our first Aegean island tomorrow.