Sailing past the headland of Cape Krio can be fraught with worry, especially in a big meltemi. We were up before dawn and sailed out of Kormen on a glassy sea and motored all the way to Knidos.
Knidos is a small bay and surrounding slopes literally covered in antiquities, but the interesting fact is that there are also antiquities in the bay itself. As you sail into the bay, you immediately spy a small amphitheatre in a spectacular ruin, which even in  300 bc, would have given views directly to the water.
The water in Knidos is incredibly clear, you can easily see the bottom.  You look up on the hills and you see the foundations of sanctuaries to Apollo, Aphrodite, Dionysus and also the Nymphs.
We arrived so early that we were able to anchor in the bay until there was an opening on the pontoon, which offered electricity and water. As people left we tied up to the dock thinking what a lovely small serene bay. It didn't last long,within the hour we were absolutely surrounded by gulets.  Gulets are local Turkish boats that take day trippers out for a swim and to see the ruins or for a week's holiday.  Our quiet little sanctuary was completely over run with other tourists here for about two hours.
There are also some very elegant gulets, that people hire for a week or two with paid crew and skipper.  We are often amazed at the dexterity they show in maneuvering these large ships into small bays and tight anchorages. They are without a doubt skilled sailors.  The crew are also multi-talented. Here is a photo of a gulet being brought into very tight space, so they anchor and then take a line ashore.  It's something we do in Pittwater at Smith's Creek or Penta Bay regularly.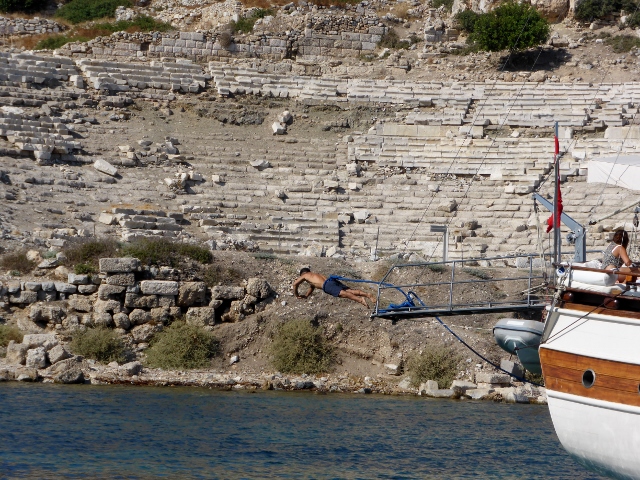 Of course, in Smith's Creek, we usually take the line ashore in a dingy.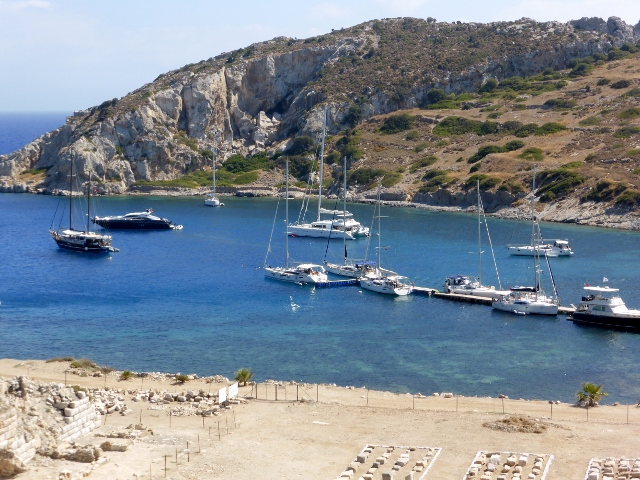 There are two mysteries concerning Knidos, why was the site abandoned here?  One reason that there is so much in the way of antiquities left on the ground was because the site was simply abandoned, and no one seems to know why.
The other mystery is a beautiful nude Aphrodite was sculpted by Praxiteles and it is the first nude female statute, copies of it have been saved but not the statue itself. Sad not to see it but we have seen a copy of it at the Vatican museum. Maybe the statue will be found in the future, there is so much still undiscovered here in Knidos.