Frosty and Louise have left us for a small Greek island, with a bar that you can drink at while your feet are wading in the water. After over 500 miles on Mercier, from Malta to Montenegro, another 10 hour drive with Rad through Albania, and a short taxi ride at 160Km per hour to Lefkada, we think they deserve a nice quiet drink with Marg. But we miss them. If you go into photo gallery and click on Kotor, you will see a few more photos of our stay in Montenegro.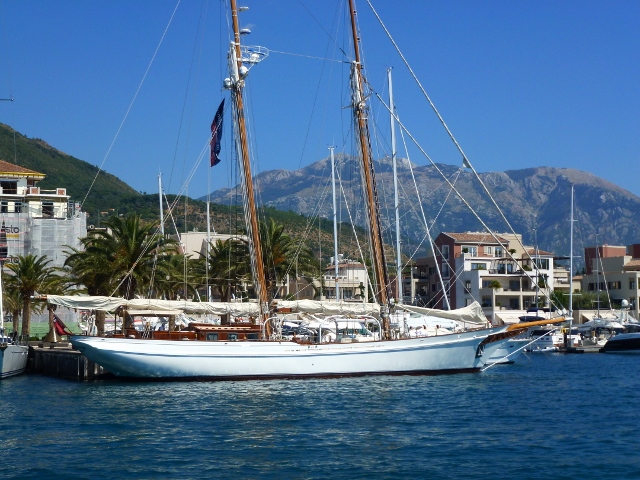 John Stephens must have heard the sighs coming from Mercier and realised the loss of our playmates was causing us a bit of ennui, so he invited us to a party on Saturday night- a James Bond party. Well actually a Misahara jewelry launch* Hmm, what to wear? 35 degrees and sunny even at 6:00PM.
Porto Montenegro is glamourous and there were quite a few amazing dresses on the tall, slim local beauties. The violin & guitar duo added an air of sophistication to the event.
Conversations abounded about cruising in the local area and in Croatia with Aussies John Stephens and PM Marina Director Tony Browne.  They are the fonts of local knowledge about sailing in this area.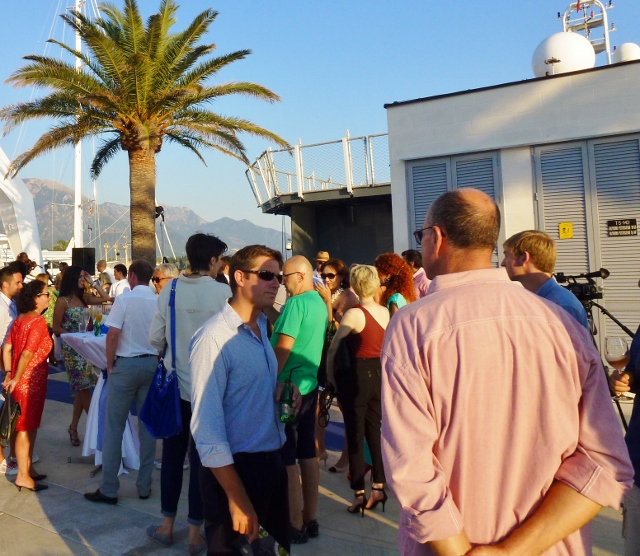 Then came Bond – James Bond, he plummeted off the pontoon into the bay for a high speed chase of the bad guys.  That will teach them to spike his drink. Too many photos to add to the page, but click on Photo Gallery and then Bond.
*see the jewelry at www.mishara.com