Wandering around the waterfront of Vis and Kut, we see pebbly, sea urchin riddled beaches. We thought it was interesting that instead of the crowded beaches of Bondi or the Jersey Shore, we saw solitary swimmers and sunbakers. We saw people in silent contemplation of the landscape and vistas.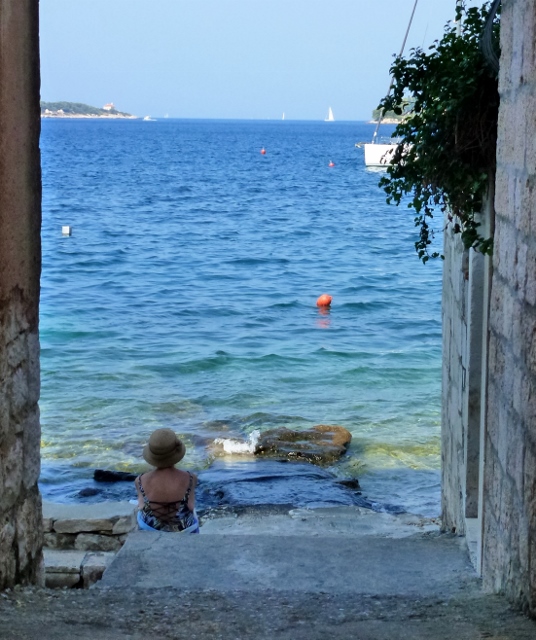 Vis is a beautiful old town on an island near Hvar.  Vis is just 60 miles to Italy and like Italy, Vis has been inhabited since about 3,000 BC.  It is an island of wine growers and fishermen.
As we wandered around, we were enchanted with the azure blue of the water against the old stone buildings and the internal courtyards glimpsed through an open door.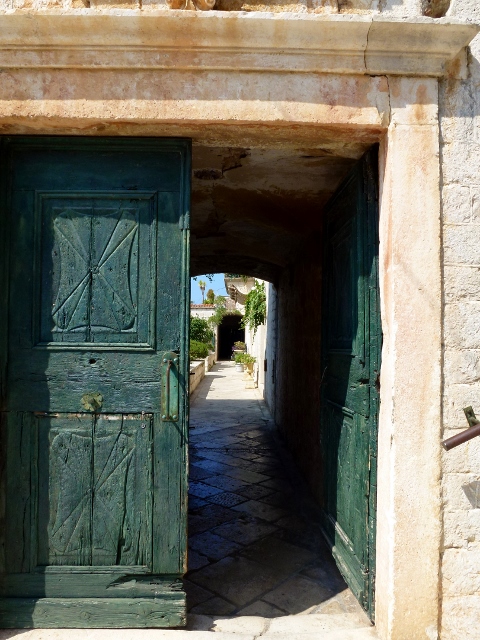 Kut is a nearby village from which the town of Vis originated after merging with the village of Luka. Vis seems to be built on many levels, so we walk up and down hills and stairs and out towards the mouth of the bay.  We see a few sun bakers becoming part of the scene, adorning the view of boats and pebbles.

We were having a late lunch on Mercier and fellow Aussies, Gloria, Allan and Bill came by to say hello. They are also sailing Croatia and have come from Adelaide.  We chatted for awhile and realised that both Gloria and I are transplanted Americans thriving in Aussie soil for many years. They wandered off to their own lunch in a cafe in Kut and we wandered around looking at beautiful old buildings, gardens and churches. Exploring the back streets, we see a few more buildings of interest.