It sounds like the weather is divine everywhere, but we have had a week of beautiful weather here, after only two days of rain last week.  We are swimming every day, as the days are still warm but the nights are beautifully cool.  Frosty and Louise, we try to convince Lesley that we melted on those hot August nights, she hardly believes us.
There was no shop in Mir and we were shy of a few things for dinner, including bread.  However, no sooner had we finished our swim, the fruit and vegetable man came to visit us.  Toni's supermarket visits us just before we start dinner, so his timing is impeccable. It is a whole new meaning to 'having the groceries delivered'.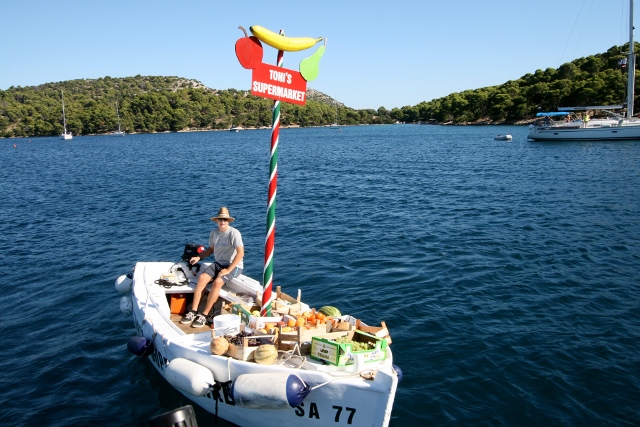 We sailed the full scope of Luka Telascica, a large natural harbour at the Southern approach to Dugi Otok.  We moored at Mir, very close to the entrance and we wanted to see the whole harbour so we went on a tour of the whole bay.  We sailed past one island with wild donkeys, who became very alert when we yelled out "donkeys"!
To get to Sali, we had to go through a narrow passage between Dugi Otok and  Otok Kornat. The Prolaz Proversa Velachannel is 2.2 metres at the shallowest point with an east going current.  The Thompsons pilot book says never to be attempted in a bora which blows strongly here or a sirocco, which creates big seas.
We had a swim at a little island before lunch and then sailed into Sali.  Lesley, James and I went for a swim again later in the afternoon, but there were a surfeit of black sea urchins (read stingy urchins), so I held back.  James went back to Mercier.  Lesley and I continued around a wonderul seaside path until we found a rocky beach with a handhold and no sea urchins.  We were swimming and talking and the lady next to us asked where we were from.  Her name is Marijan (spelling?), she was born in Sali but emigrated to the US with her parents in the late 60's. Her parents have moved back to Sali. She lives in New Jersey and loves to visit them and swim here.  We had a lovely chat, and she showed us the way over the hill into town, past her parent's bouganvillea covered home.
On our travels we passed a tiny chapel, so beautiful dedicated to the Blessed Virgin Mary who looks after fisherman and we hope, sailors.