Mljet is one island that we enjoyed so much, we took a second bite of the cherry.  We left Korcula on Sunday the 29th in a stiff head wind, messy seaway and grey sky.
We arrived at Polace and stayed at the very nice Calypso Restaurant – reminding us that some feel that Mljet was the home for the nymph Calypso in the Odyssey.  The drill here is you moor at a restaurant and you get a free mooring but you have to buy yourself a nice dinner.  We relaxed, just reading in the cockpit, when two very nice Americans, Candace and Dave came over from the gulet Krila 7 moored nearby.  They had been hiking up at the two lakes area of Mljet and had visited the Isle of Saint Mary.  Rain was threatening, so we decided to walk to the Roman ruins and go to the island the next morning.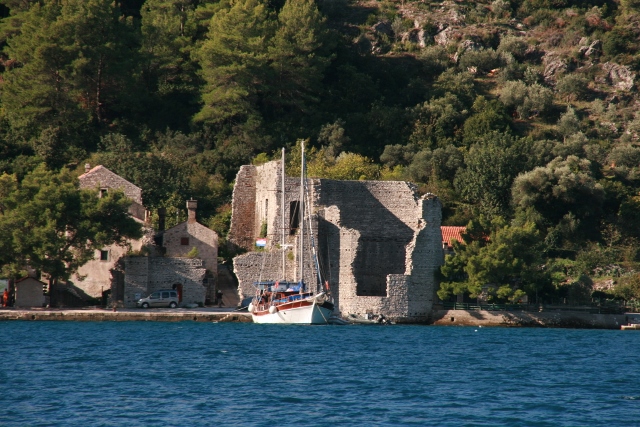 Dave and Candace kindly asked us over for a drink before dinner and we met the rest of the Americans on board. The hospitality was warm and it was great meeting these genial travellers from both coasts of the US.
Morning takes us to the Two Lakes and the Monastery of Saint Mary,  on a bus from Polace and then a ferry across to the island that had been a Benedictine Monastery from 1151 until 1961.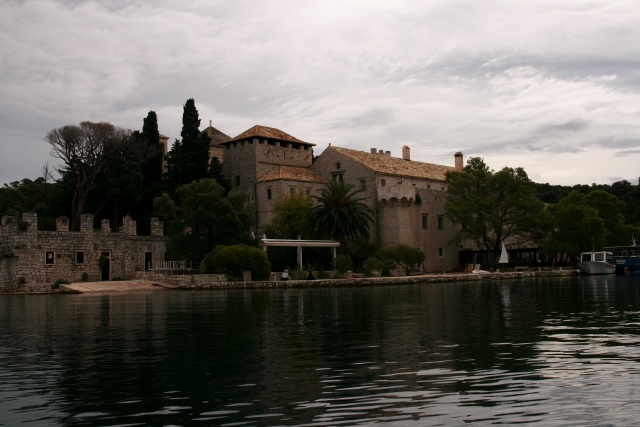 We are able to see the church and walk around the entire island.  In one very tiny chapel is a beautiful, almost Oriental painting of Mary.  On the very small altar below were letters to Mary and God, thanking them for past help or asking for indulgence. It felt very human yet very modern to be writing letters to God.
We took the ferry back to the hiking trail near the small lake to Pomena and so we walked over stone by the lake and had lunch in Pomena.  After a very good lunch, we went into a shop for water for the 4 Kilometre hike back to Polace, Right in front of us was a bus which the waiter had said was non existent and we were back in Polace in a few minutes.
By the time we returned to Calypso for dinner, several other boats on a yachting flotilla had joined the quay.  It was the Austrian sailing division who had just arrived from Trogir and the races started the next day.  There was quite of a bit of Austrian music and Croatian beer, with drinking games played to The Sound of Music.  One Austrian gentleman, Norbert, came over to apologise for the noise  and explained that he once had a great vacation driving from Brisbane to Tamworth to the Hunter Valley and finally Sydney. Needless to say we enjoyed the Sound of Music and a few other Austrian Tunes to the wee small hours of 3 AM and then the bora arrived in earnest.  We bounced on the mooring until the next morning.  (We are telling you all about this because it is illustrative of the types of things that happen on Mercier that are out of the skipper's control, not to create pity.)
We decide the next day to stay in Polace but to go over to anchor in a very sheltered spot because even on Calypso's mooring we are bouncing as if we have St.Vitus dance. The result is immediate and we read and nap in our little cove. It is so calm.  We have dinner, then about 11PM, the bora comes in strongly and even in our sheltered little cove we bounce madly. For the second night in a row there is very little sleep and to add injury, it turns cold.
The Northeasterly bora seems to be a wind that gets quiet in the afternoon and blows up big in the dark of night.  We decide to brave the bora and motor sail for 12 miles to Okuklje.  It is bound to be protected from the bora and perhaps even quiet this time of year.
We feel we have made a good choice when we go into the small harbour. There are only a few yachts here. Well, it is October and there is a chill to the air.  We are at Maran's Restaurant quay.  I feel terrible, for at six pm, we are the only yacht on their quay. Will they have to open their restaurant just for us?  Should we offer just to pay for the mooring?
The food isn't nearly as important as the safe moorings that Maran is known for.  A quiet night, maybe even an early one, we would be happy with baked beans if we could just have a good night's sleep.
We contemplated how we would broach the subject as the first of our intrepid Austrian friends sail into the protected harbour.  One has to feel the pain of the restauranteur – going from one boat and one couple for dinner to 15 yacht crews without prior warning.   The restaurant staff goes into full overdrive to cope with the huge influx, beers are poured, orders taken then a stroke of genius.  A young waiter turns on the TV, soccer soothes the savage beasts…sorry soothes the sailors.  Our friend Norbert comes and chats as we finish our tasty dinner.  The Austrians had battled the bora while racing and thought it better to change their plans to be closer to tomorrow's marina.  They left early this morning, we toasted their valiant efforts with our tea (in bed).  It is chilly here in Croatia.
Happy Birthday to Libby Deegan, also to Ainsley and Fran, happy birthday to you both, since we are going to be packing sails and cleaning ropes we should get in early. Bon chance and Bon Voyage to Cameron, Anne and Florence who are moving to ChristChurch this week too.