To reach this special part of the southern Turkish coast, we motored through a hidden passage between two islands. The islands act as a wonderful breakwater creating a virtual road of water, which is resplendent with Genoese castles, sunken villages, bays and harbours, large turtles and ancient Lycian rock tombs. and sarcophagi. Many friends and fellow Aussies that are based in Turkey had recommended Kekova Roads.
One of the lovely bays is Tersane, or Boatbuilder's Bay.  The Byzantine ruins of a church are right on the edge of the water. We raced around in the early morning to get here before the Gulet's arrived from Kas or other nearby ports so we could go for a swim and really enjoy this special place.
Initially, the feeling of Kekova Roads is hauntingly romantic. The sights of entire villages that have subsided, with stone stairs descending into the water and remnants of lintels hand carved into the stone wall, and the front fences under water but still visible after hundreds of years. We motor in a single line, at a funereal pace with many gulets and yachts, viewing history.
In the 2nd century AD in Simena, there were terrible earthquakes and the houses on the island subsided into the water.  My thought was that the village was abandoned then and the ruins remain. The people of Simena rebuilt in the Byzantine era. It was much later that pirates became such a problem in this part of turkey that Simena was abandoned.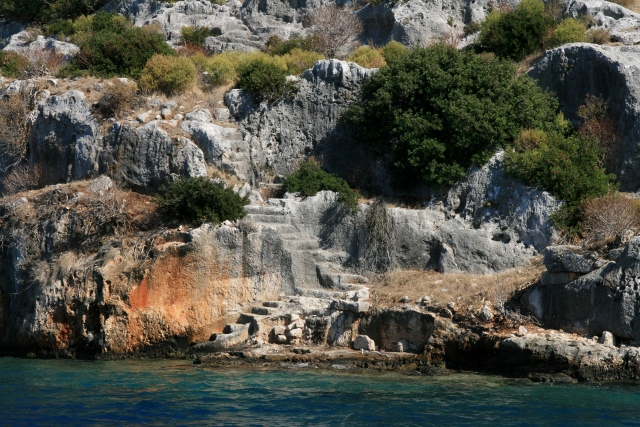 On the other side of the bay, there is Kale Koy and Ucagiz Limani.  Kale Koy is the sight of ancient Lycian ruins, remediated  into a castle by the Geonese knights of St John. The knights just built the fortress around Lycian rock tombs and a small amphitheatre. The views down to Kale Koy are quite splendid on a beautiful sunny day.
Looking up to the castle.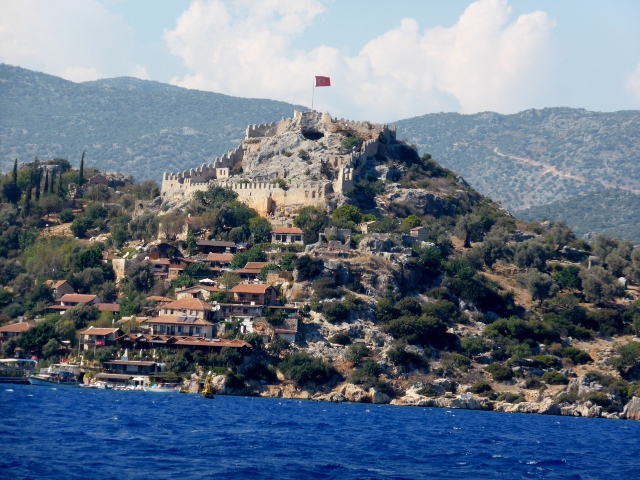 There is a Lycian rock tomb and amphitheater in the castle and sarcophagi overlooking the water, with one subsided into the rock pools and restaurants catering to yachties and other tourists.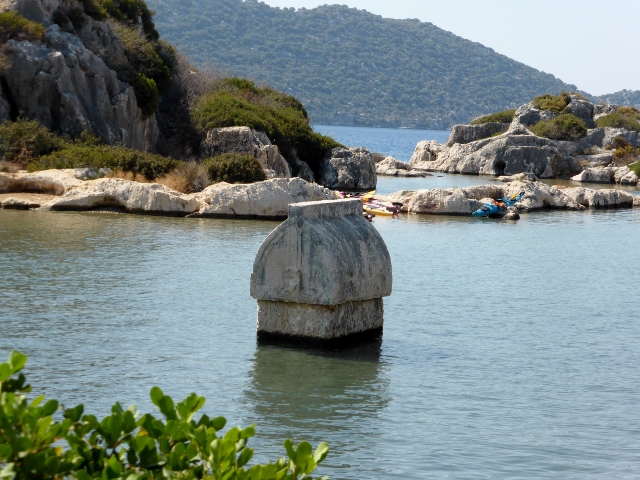 We enjoyed two wonderful nights at anchor in the peaceful Ucagiz Limani, while during the day we visited all the other bays like Tersane, Spring Bay and Woodhouse Bay. We swam with the turtles in the Woodhouse Bay, making sure they were at a respectable distance away.  There were freshwater springs mixing the warm bay water with chilly fresh water causing lots of squeals in Woodhouse Bay.