We had a surprise visit on Friday morning from a giant thunderstorm, a dust free rain that laundered the bimini and washed away months of dust and salt. It was very cozy having a cup of tea and reading the Sydney Morning Herald while it poured outside, with Mercier secured to pontoon with stout lines.
Kas Marina is rather more like a resort than a marina. James and I have been lunching at the pool. We met some lovely fellow yachties for evening drinks as there is a great social network in the marina. We were introduced by the vivacious Maggie who owns Deja Blue from the CYC.  We enjoyed our time feeding the Marina's fish, roosters and ducks and watching sunsets. During the day we enjoyed taking random Dolmus rides (the shared taxi), and doing a bit of work on the boat.  All of this because it is a great place to meet crew coming out from Oz.
Frosty and Louise joined us, they came in from Greece via the ferry. We had to fit a lot of Kas into one night. First stop, after Mercier, was Antiphellos. Hellenistic Kas was called Antiphellos and now a small amphitheatre remains, we arrived just before sunset.
The theatre didn't have a stage but it did have a view, Frosty and I considered whether we are descendants of Lycian view junkies. It was built in the 4th Century BC but they seem to enjoy a captivating view as much as we do today.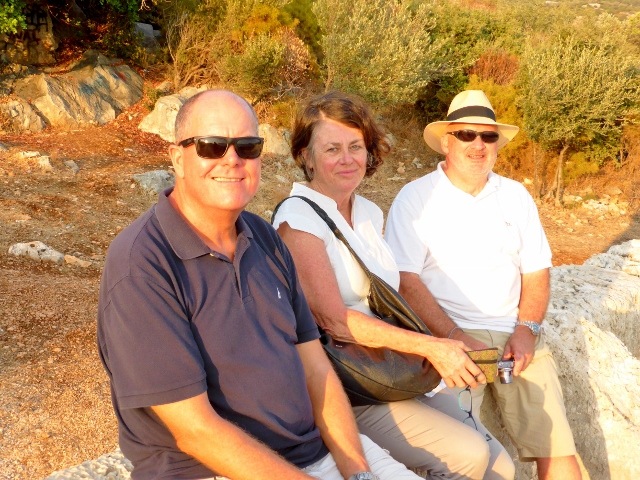 We walked through Kas and admired a few shops and we were able to get the last minutes of the sunset at Sako looking back over the harbour to Kastellorizo.
We had a leisurely dinner and then went shopping. Frosty was enjoying viewing  the carpets and rugs. There are several excellent carpet merchants, Recep at Young Partners and Gallery Kas, near Sako. Louise and I managed to admire every bowl, lamp and bronze tray at Tugra Art Gallery. Hmm, they ship and I have taken quite a few photos and there is always next year.