After a windy lumpy sea night at Koroni, we left at first light for the heralded Methoni.
Heikell tells us two interesting facts about Methoni, which was first a Venetian fort and then captured by the Turks. Cervantes was a prisoner here. The tale of Don Quixote may relate his experiences as a Turkish prisoner.
The second item is that Homer said Methoni was "rich in vines". We anticipated going to try some local wines but Methoni is also an anchorage for settled weather and that it was not. We continued on to Pylos.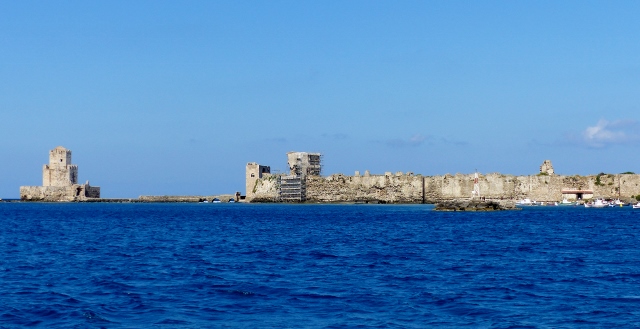 Pylos is an unfinished marina, full of local small boats. Yachts can tie up alongside and they are charged a small fee for the evening. No water or electricity, but a protected, quiet marina.
Pylos was the site of an amazing battle of the Battle of Navarinon. The battle was fought by both sides at anchor. The Turks and Egyptians were anchored in a semi-circle as a trap for the combined fleet contingent of the English, French & Russians who sailed into their midst and anchored. An Egyptian boat fired first and the entire battle took place with all ships at anchor. The English, French & Russians won (though outnumbered) and it meant that Greece now had independence.
Later in the day, we had an email from Triffin and knew we were going to have company. We had a nice drink on Mercier, with enjoyable conversation, sharing Greek wines and then walked into town to a taverna with a view, great beef and a very decent wine list. It was great to catch up with Jan and Dean, a wonderful meeting of friends from home. The next morning we pressed on to Kyparrissia and a quieter night.