Genoa is like a old playboy, well dressed,handsome with strong bones yet slightly seedy and ruined. You can see the glorious old buildings built by the Ducal families. This was merchant wealth created in the early 1600's that let common men act like kings.
In the midst of all of this grandeur, are the stories of Genoa's inhabitants now, there seem to be many refugees near the port and public spaces. We were reluctant to wander to far from the hotel late at night, but we didn't need to as wonderful restaurants were located in the caruggi nearby. So what is a caruggi?
Porto Antico would have seen its share of pirates, so buildings were built with small narrow alleys between, so only one or two men could pass. It would be easy to defend and women and children could be upstairs and pour down boiling oil or stones to assist Genoa's defenders.
Late at night, they seem slightly malevolent, especially if no one else is in the laneway, you feel as if someone could reach out and grab you. This is the problems with overactive imaginations. They are busy and crowded during the day and lead to wonderful shops, cafes and offer plenty of scope to get lost and then found.
On the Strada Nuova, the street is wide and often someone will be busking including the most wonderful opera singer. This street is the epitome of 16th Century urban planning. Stately homes have been turned into museums or banks.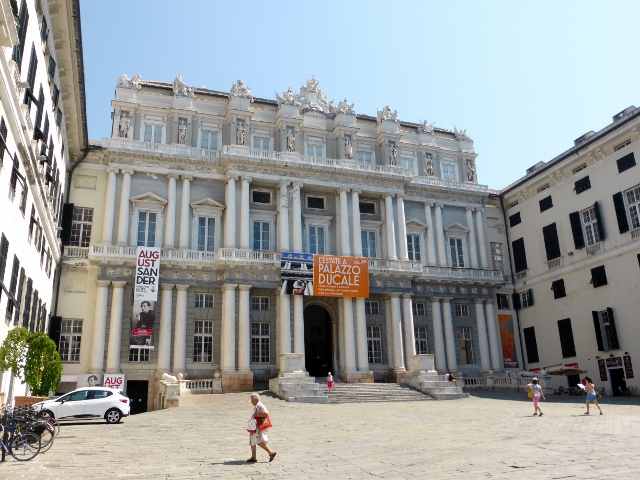 The Piazza Ferrari, with its beautiful fountain, is just outside the Palazzo Ducale. We had a splendid time watching a golden approach anyone to throw her bottle into the fountain. She would retrieve it and bring it to the next unlikely suspect. The scene gets interesting when a big burly beast almost pulls his owner into the fountain, because he wants to play too.
You can see art, artifacts and rooms of the stately old palazzos.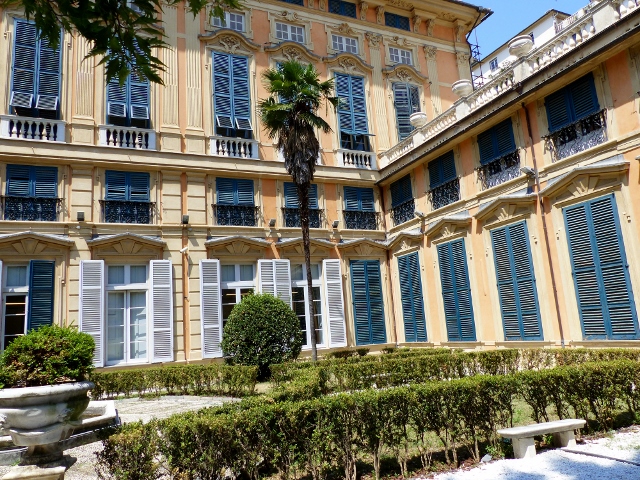 The famous architect, Enzo Piano has added his charm to the old port of Genoa. El Bigo, a ride which replicates the old cranes that dotted the harbour and a terrarium.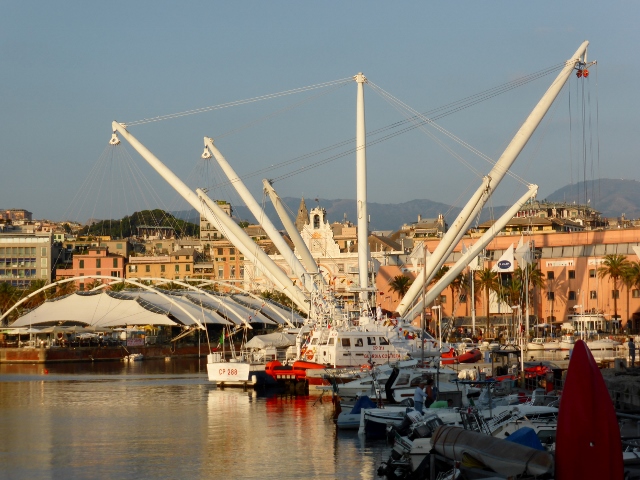 So what would we say about Genoa, with its caruggi, splendid stately buildings, its elevators and funiculars and its lovely people, we say visit. Only one day, while a cruise ship was in did we have to contend with the umbrella ladies leading tours. Mainly there were independent travelers, so there is lots of scope to practice your Italian and meet the Genovese. Ciao Bella.