Fatu Hiva, famous for its visitors, like the Spanish explorer and navigator, Mendaña, circa 1595 and Thor Heyerdahl of Kon Tiki fame circa 1947. We feel like adventurers reaching Fatu Hiva, although we arrive in absolute luxury and comfort.
The evening before we arrive at Fatu Hiva, all talk is about handicrafts: making tapa, flower leis and crowns and monoi, a coconut oil for hair and body. We also hear about the beautiful flowers on the island.
When we go to see the local handicrafts, we have a band playing music for us. The children would come right up to the band and play without worry. This young musician had a go of the drums and the ukulele. He was not worried about the crowd at all. Nearby a little girl about 9 months was trying to dance. The children are lovely, generous and simply gorgeous.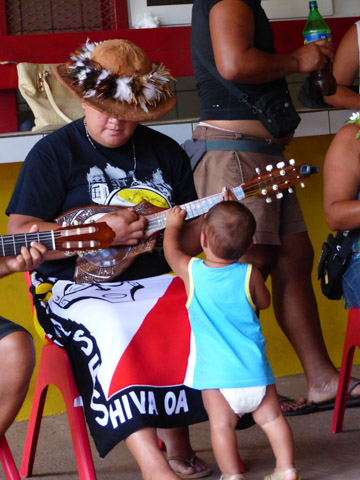 You wouldn't be able to get away with buying some beads or shells. They were offering us pamplemousse or sweet grapefruit to get us to have a look at their beads.
In the afternoon, we went to the Bay of Virgins, before the priests arrived the Islanders called it the Bay of Phalluses or Baie des Verge. It went to Virgins just by adding an 'i'. The Catholic priests were perhaps easier to live with than the Protestants. They made small changes (like adding an i), they didn't destroy the tikis and were more understanding of the traditions. I am not comparing the religions or cultural imperatives, just noting the softer approach.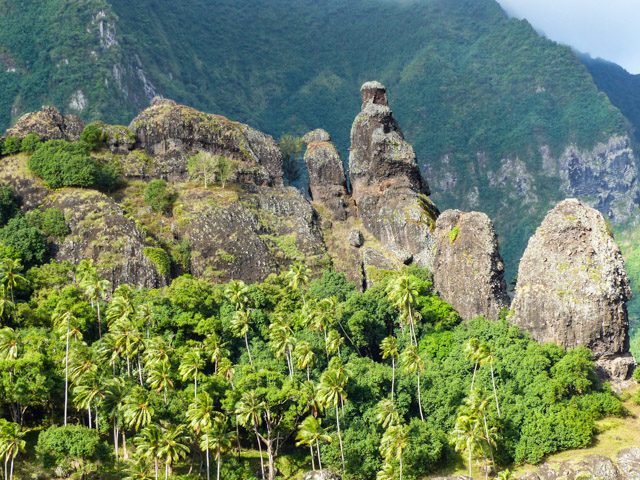 The other topic of discussion on the way to Fatu Hiva was the ten mile hike. Where all the other hikes are highly advertised and recommended, the discussion of the ten mile hike is an exercise in dissuasion.
The hikes in the Marquesas are all uphill/downhill but the on Fatu Hiva, you walk up for half the hike, at the top it rains on you and you come down in mud and hellacious humidity. The hiker disembarked at 8:00 am but the hike didn't start until 10:00am. That is one start time the Aranui guides should reconsider. Earlier would be better.Reading an Aranui blog citing a few hikers staying in bed for two days after the hike. I decided to give the 10 miler a miss, but now I wish I had trained for it.
Tip: train for the hike, use hiking sticks to help control your decent in the rain and mud. Good shoes, insect repellent, sunscreen, a hat and water are a must. After all you want to see the beautiful flowers.