We woke with two thoughts: we are in Alaska and it is a blue-sky morning. Alaska lends itself to a feeling of rejoicing and buoyancy when you come into port and look out on a sweet town with blue skies to lighten up your day.
We had just crossed over the dock and the ferry from Skagway came in, so we ran right over and jumped aboard.
We were glad to get to Skagway and know we could get back in time to explore Haines. It seemed as if a quarter of Sojourn guests had left at 6:30am to take a ferry to meet up on the White Pass Summit Scenic Railway. The 100-year old train once took miners through the rugged North country on their way to the Klondike. We missed booking this narrow-gauge train and James has it firmly back on the bucket list, along with Denali.
We met a couple from Arkansas, who had driven to Haines and were taking the ferry to Skagway.  It is a 15-mile ferry ride but about 359 miles to drive it. We enjoyed the ferry ride there, we saw waterfalls and helicopters taking tourists out for scenic tours. Majestic is the only way to describe the landscape.
Skagway had at least four cruise ships in port, that added almost ten thousand people to the streets. There was a souvenir for every taste and possibly a beer for every taste too. I felt like I was in Disneyland and found myself looking for the fun-rides. We took our ferry back to Haines instead.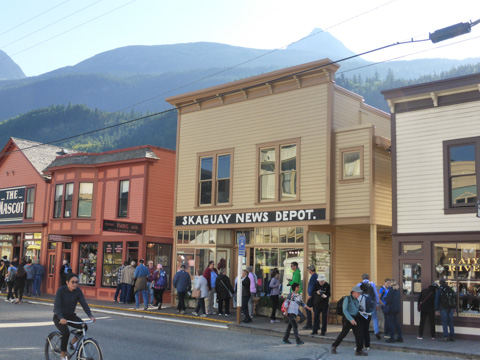 By the time we arrived back at Haines, it was raining. But we donned our waterproof jackets and set off for the museum. (No photo, just keep the sunny image of Haines in your mind.)
The little bit of Sitka is just because we saw a raft of otters. Really a group of otters is called a 'raft'. Our otters had a raft of kelp and were incredibly cute and we just have to share.