James and I crewed on two yacht deliveries from Hawaii to Australia in the 80's. Each day at sunset, the entire crew would sit in the cockpit and talk about where we had just been, where we were going and especially where we wanted to sail too.
Certainly, one place that we all dreamed of was the wild and remote Marquesas Islands. It was one that was still on the bucket list, albeit with the idea of sailing on a yacht.
Imagine my delight when Sandy Lawson came by with a brochure of the Aranui 5, a hybrid freighter cruiser, which leaves Papeete and sails via the Tuamoto Islands to the Marquesas Islands. Imagine my surprise when James said "Yes".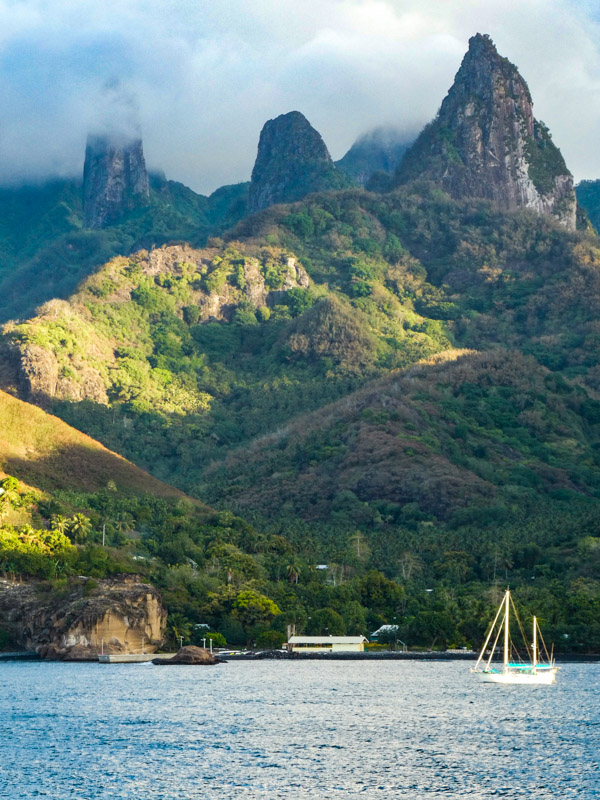 We are visiting Papeete for the first time since 1985 and staying for two days. This gives us time to reconnect with French Polynesia and get ready for the cruise, strolling through Papeete with Rick and Sandy. There are some new buildings and a lovely new information centre and park. Many of the older buildings are looking decidedly shabby chic, still the ladies making flower garlands and crowns are still beautiful to view. The old wooden Church looks the same and the market looks newer, with gorgeous entertainment.
We visited the wonderful Robert Wan Pearl museum. They have an amazing selection of pearls as well as the Pearl museum.
We missed the Le Trucks, they were so efficient and available.  We waited for a bus for almost an hour and finally stalked a taxi at Carrefour. Le Trucks are still working on Bora Bora, which was good to see.
The most interesting food was at the local food trucks called Les Roulettes. Each evening you walk down to a local car park and watch as the food truck set up their stoves and barbecues outside the truck. We had wonderful MahiMahi, entrecote steak and chow mein. We didn't have crepes but they were available too. The serving sizes were huge and the food was delicious.
Papeete is lovely to explore but book a tour or get a taxi because public transport isn't easy, unless you take a ferry. Try the food trucks and the markets as well as the restaurants. Bring your insect repellant and sun screen and plan for a wonderful time.