The Tiki at the me'ae or marae in Puama'u were in a wild setting. Here you find the largest tiki in French Polynesia. Called Takaii you see a tiki that was taller than most about 8 feet high; a monument to a great king perhaps. The tikis needed protection from the environment, so they are now under huts arranged by UNESCO.
There is also a large stage that was used to kill enemies on a sacrificial altar.
One of the tikis was of a well-loved queen, who died in childbirth and the tiki is a monument to tell her story and it became a place women could come and ask for help with their own pending births.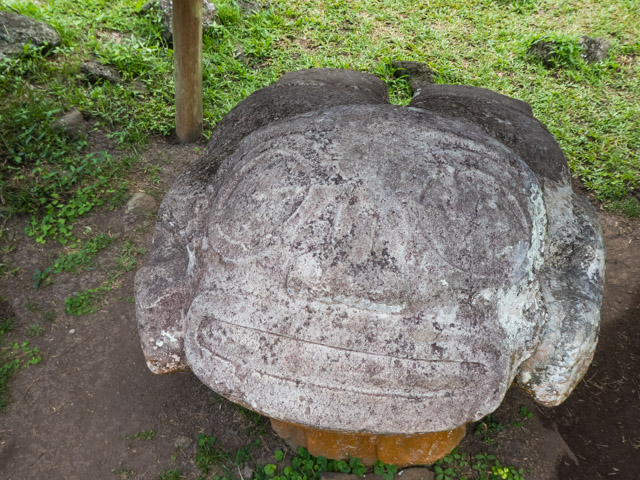 We returned to the ship, and were mesmerised yet again watching the Supercargo add the containers and reposition the barge, the fishing boat and the backhoes as if they were moving pencils and pens on a desk.
We had lunch on board in a much calmer, Vaitahu Bay. Aranui often finds a lovely calm anchorage at meal times and even until the early morning hours so that we could get a good nights rest.
After lunch we went to a church built with an aesthetically pleasing reference  to the Hiva Oa's crafts and its environment. Sadly in a storm, they had lost two panels of the stained glass windows and I hope they are able to replace them. Notice the beautiful carving.
Tomorrow we are up early to watch the spectacular manoeuvre to anchor in the narrow harbour of Vaipaee.