Lake Garda is so large and so Mediterranean in climate, we feel there might be a boat waiting for us. Yet while there were only ferries, we were still happy on the water. We only travelled to the lower lake because there aren't ferries going everywhere and returning on the same day.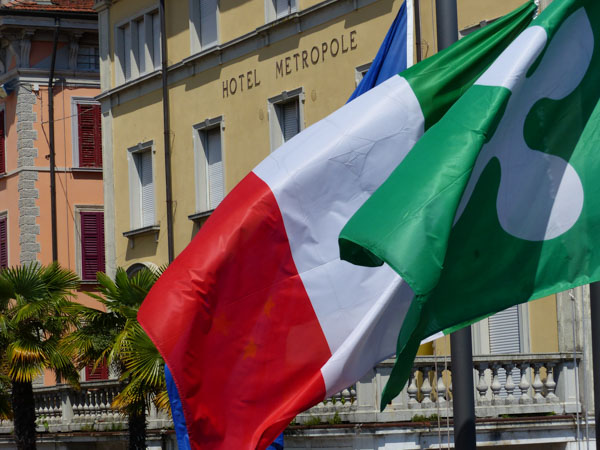 When you are deciding where to stay, if you are getting about without a car, then our suggestion would be in the Centro Storico or Old Town. Sirmione's Centro  has Roman ruins, museums and castles. The castle even has a drawbridge, which incites a romantic notion of knights and jousts. The swans gliding through the moat was quite picturesque.
Probably the best way to arrive at Sirmione is to take the train to Desenzano del garde, the bus down the hill and jump on the ferry to Sirmione. Unless you come by ferry from another town, this would seem the best option. Once you know when your ferry departs, if you have time, you can have a coffee or some wonderful gelato in the piazza.
There is a spa that you can visit and also you can walk or take the Nonno's train to the Roman ruins. Catullus is said to have had a villa here. He certainly seems to write a poem about coming back to the peninsula of Sirmioni.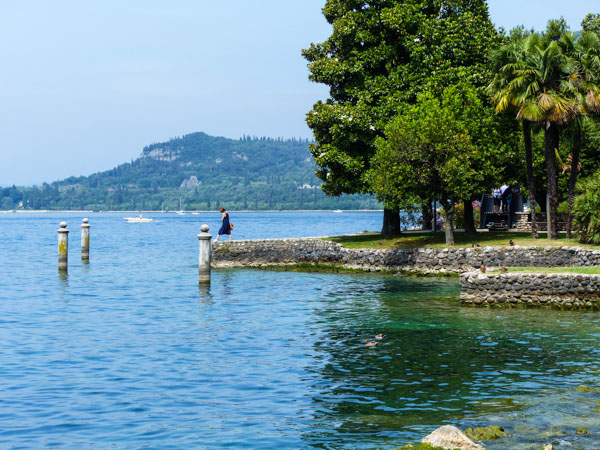 Every night there seemed to be a free concert both of a more classical style and also jazz on the beach full of drums and even a didgeridoo.  In the evening a lot of the crowds would leave and it was wonderful to wait and stroll around town from cafe to music. Like Catullus, we might try to write a poem about returning to Sirmioni.
Feeling happy escaping the crowds, we would walk and wander waiting for the twilight. More on the Roman Villa tomorrow.