It isn't always easy to find access to internet connections.  We will all be scurrying around when we first reach port, trying to ask for an Internet café in a different language than the day before.  And when you are out at sea, there is no hope of internet.  Occasionally, you are having so much fun, you don't want to look at a computer. This past week we have had all of these scenarios, so that's why this is the first blog in awhile.
After we left Ciutadella, we sailed to the North of Menorca and moored in Fornells. We decided we would stay on the boat because we had no hope of arriving on land with dry clothes due to a strong breeze in the harbour.  Instead we opened a bottle or two of Spanish wine, James cooked Salmon fillets and we sat on the deck under the Menorcan sky.
The next day we sailed to Mahon and wandered the streets, which closed completely at lunch time.  James and Gaila went off the markets, which were in an old building and had several fruit & vegetable mongers and sellers of Menorcan goods.
That night found us in Es Castell eating at a traditional Menorcan restaurant called Dinkums (Dual Income No Kids Under Menorcan Skies). Our table was six inches from the waterfront, so we were able to feed the fish while waiting for our mains. Note: Menorcan fish love bread, but they are very smart so they didn't touch a French fry. We walked back up the hill to the taxi rank and here was a shop for traditional Menorcan sandals.  Even James and Blue bought a pair, so we hope to come back to Sydney and start a trend.
Early the next morning, we finished preparing the boat for the crossing to France, a trip of about 30 hours in the light conditions we experienced. The seas were calm and the day was sunny and warm, very different that the trip down to Palma.  We thanked Huey and sailed to France.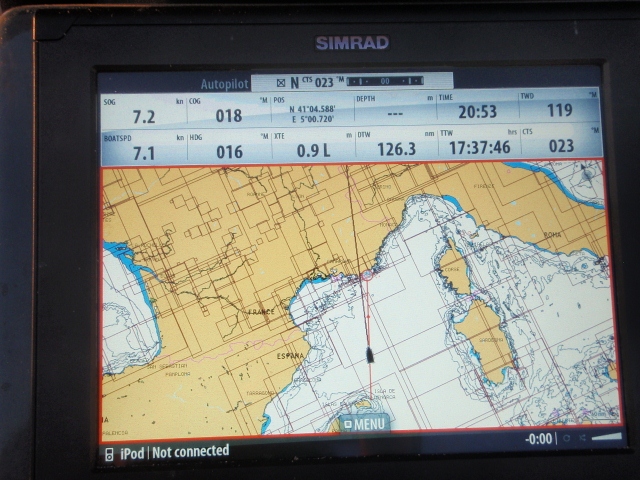 We landed in Hyeres late Saturday afternoon, too late for the Orange store to buy Internet time but in plenty of time to do the shopping – several great ship chandlers here, we found a bbq and a salad bowl. One of the great treats of Hyeres is a self service Laundromat.  One seems to meet the nicest people doing laundry. They are usually French and staying in one of the many holiday rentals in Hyeres.
We did look for an internet café at the port, but we weren't successful, so Rene and Gaila had to wait to the next afternoon for WeeFee.  We had a celebratory lunch on Mercier for Rene with some lovely champagne from Epernay in the Bay of Langoustine. Later in the afternoon we motored over to Port Porquerolles and wandered around this interesting town, where mountain bike rental is a thriving industry.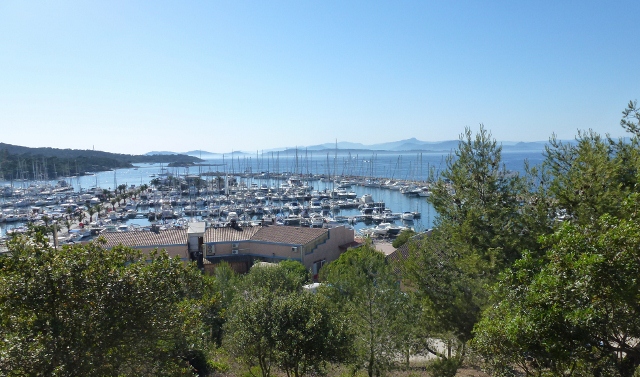 The evening commenced with a bottle of well chilled Moet on Mercier, before the lovely dockside walk into town for dinner on the verandah of the lovely L'Orangeraie. We watched the sun set over a hundred masts.