Our first night on Lastovo is in Luka Mali Lago, a very nice anchorage in a sheltered bay on the west side of Lastovo.  There are  a few cafes and an hotel in the next bay, which we can walk to or go under the bridge in the Zodiac.  There are a few houses on the shore and there are just three boats here overnight. We hear it can be very crowded in August.
We have a nice swim in the morning and motor for about 1 1/2 hours to Skrivena Luka.  As you approach Skrivena Luka, you can't see the entrance to the bay at all.  I wonder why James is pointed directly at the island, but as you get closer you can see the narrow deep channel entrance and a completely landlocked harbour right underneath Pt Struga lighthouse.
Skrivena Luka means 'hidden harbour'.  The Porto Rosso restaurant has a wonderful marina there, pay a small fee and have your dinner in the restaurant and everyone is happy. It is a very sheltered spot being landlocked and would have been another good place to be in the recent bora.
Mercier travels almost half way around the island to the tiny harbour of Zaklopatica.  It is like a small jewel and we are at the restaurant pontoon of Augusta Insula.  The names reminds me of Romans and it is very interesting to note that the Roman emperors came to Lastovo and built holiday homes. Augusta Insula means the 'emperor's island', the Roman name for Lastovo.
We order a Croatian Lamb Peka for dinner and walk up to the land locked town of Lastovo. This is a town of 15th and 16th century houses and churches.  All of this in a valley shaped in a natural amphitheatre.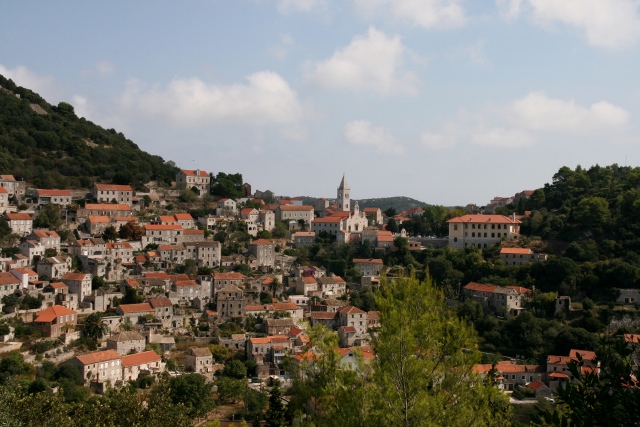 The town's icon and emblem are the 'fumari' or chimneys.  Each craftman built a slightly different chimney for each family home.  The fumari are all unique and range from the delicate to the almost phallic.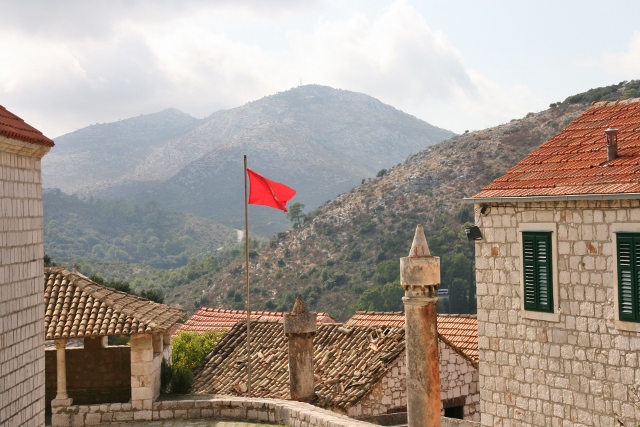 There can be a large church and it will be surrounded by several smaller ones dedicated to different saints. We were amazed at the number of churches in a very small area.
We walked back to the boat, partially on an old Roman road, which was more like a bush track. Back on the main road to Zaklopatica, we pass some very endearing graffitti.