Mercier sailed into Kohissia on Sunday afternoon and it looked small, brown and much less lush than the Ionian Islands.  As with many of the islands and bays, it charms you only after you have stayed for awhile.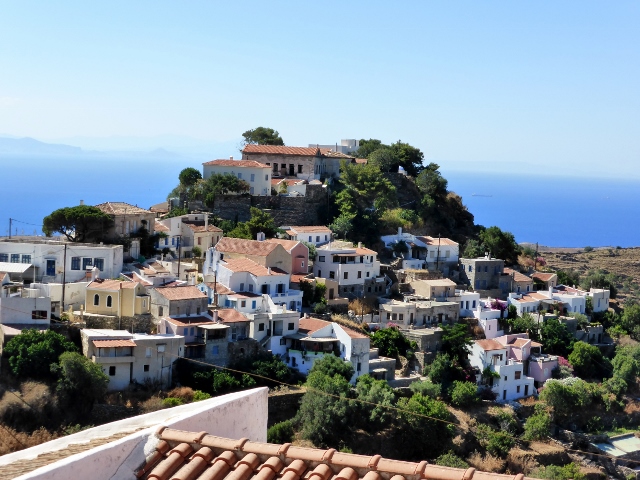 We moored on the town quay, right in front of Papa Doble Vineria, which serves good coffee and smoothies and offered an wonderful view of  boats trying to anchor stern to in a gusty wind. It was very hard to keep your bow pointed straight as you reverse back into the quay.
Luckily, a very nice Athenian gentleman took our lines and chatted to us for awhile .  He was going back to Athens, about an hour away in his powerboat. We decided, as the wind was getting gustier, that we would have another coffee at Papa Dobles to keep an eye on Mercier. Stephen and James and other yachties would help take the lines of the new arrivals.  Plenty of advice was offered.  There was a motor boat next to us and we watched aghast as a yacht was blown down onto the boat.  No damage done but it was a cringe worthy event.
The ferries came in and went out pretty quickly and efficiently and we saw buses and helicopters loaded. Our neighbours at Papa Dobles, had broad American accents and sat and chatted and chatted – the ferry departed and suddenly we heard "Oh my God, OMG,OMG (x15) the ferry has left us."
On Monday morning, we went for walks and then we decided to go up to the village of Ioulis and walked through the village to see The Lion of Kea, a sculpture carved circa 600 BC from granite.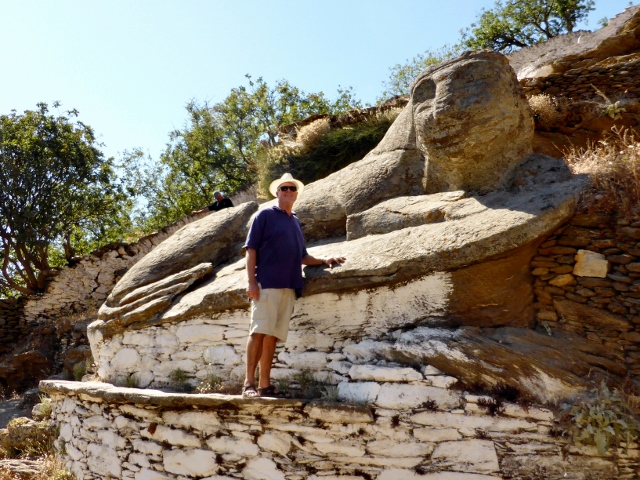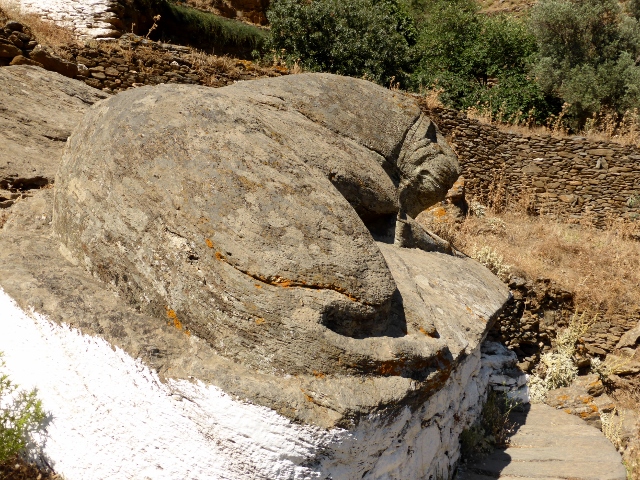 The lion almost looks like he is smiling. The walk is fairly easy and scenic thru the village. The views as you look back to Ioulis are spectacular and out to the other islands in the deep blue water worth the effort.
When we returned our neighbouring yachts had left.  We looked up to see the Squadron burgee and waved Howzat in beside us.
We had a wonderful dinner overlooking the harbour and thought we could spend another day here. Lovely beaches, very nice people, especially our Athenian friend and Maria Helena, who walked me to find a laundry a half a kilometer away.  There are also some nice burros on Kea, here's one of our favorites.