At times we have to work harder for the better things in life. Hydra is certainly worth the extra effort. The effort was in the finding the entrance, which you can't see until you are immediately upon it. We went over early and luckily a yacht left just as we arrived. That was the only berth available on the dock. We jumped off the boat and went exploring.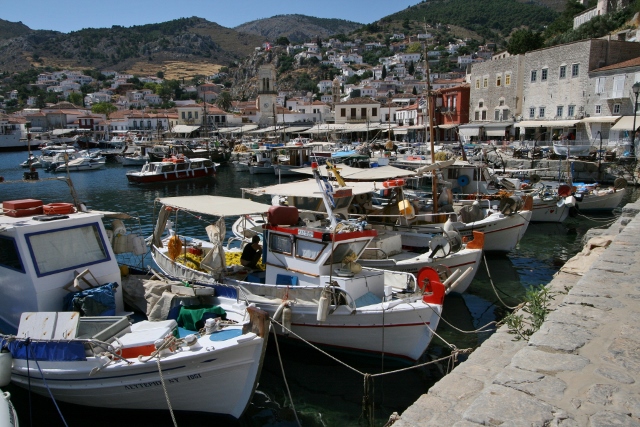 Hydra was a privateers's den for quite awhile, so small and distant from mainland Greece's bureaucracy, that it was able to 'trade' under the radar. In the mid-19th century, the bureaucracy caught up with Hydra and the population declined. By the 1960's, tourism became a very lucrative money maker for the island. There are no cars, scooters or motorcycles allowed, boats or ferries bring in supplies and small carts fueled by man power. Burros and donkeys also cart materials, often so laden down with supplies you don't see the donkey.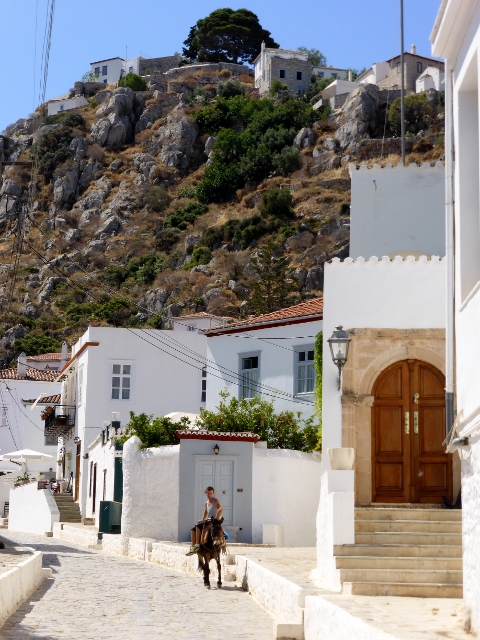 It is hard to break away from the waterfront and watching boats arrive- four super yachts and a few sailing boats and many fishing boats.The super yachts obviously have a number to call, as they approach the Harbourmaster arrives with his crew and they receive the mooring lines as big as a fender and tie the stern lines.
We watched groceries being delivered on the quay, first the veggies and then Hen's night's brides, bridesmaids and friends, as well as day trippers.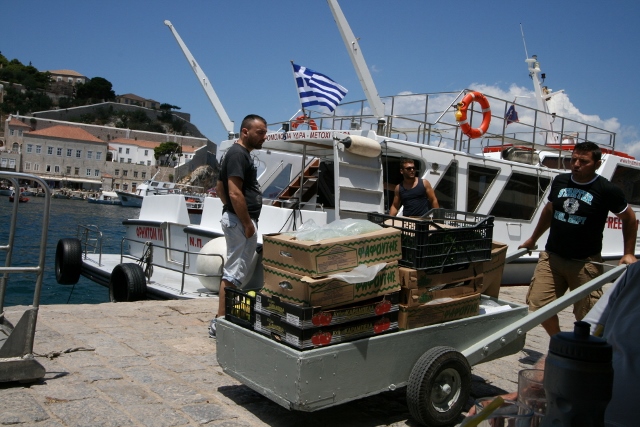 We walked to the west of Hydratown and saw the Spilla swimming hole with jumpers throwing themselves into the Aegean.
We went to a wonderful restaurant for the sunset views and lamb cutlets, it was out of the hubbub and fresh breezes in Hydratown. We saw a restaurant full of people dressed in white having a big party on the way back.
The dock was incredibly busy with six super yachts and their staff running up and down boats and polishing the steel and serving drinks. One of the motor boats across from us had a huge wide screen TV, so we could watch the World Cup soccer.