We have spent quite a bit of time this summer toasting with the Greek word Yamas or 'to our good health'.
Sue and Swanno flew in from safari in Africa. We collected them from the ferry in Parikia on Monday night and had a wonderful Greek dinner on the beach in Naoussa.
The next morning, we left our special port of Naoussa and headed for Donoussa, which was nine miles off the east coast of Naxos.
We found Ormos Dhendro to be the perfect place to farewell the Cyclades, with a swim and a Sue-cooked dinner under the stars. Sadly also with quite a swell into the bay when we were trying to sleep.
With the possibility of a strong meltemi, we departed before dawn to reach Patmos before the wind set in. Being up for early morning safari's had Sue and Swanno in prime condition to deal with the rigours of sailing but they did keep asking where the staff were.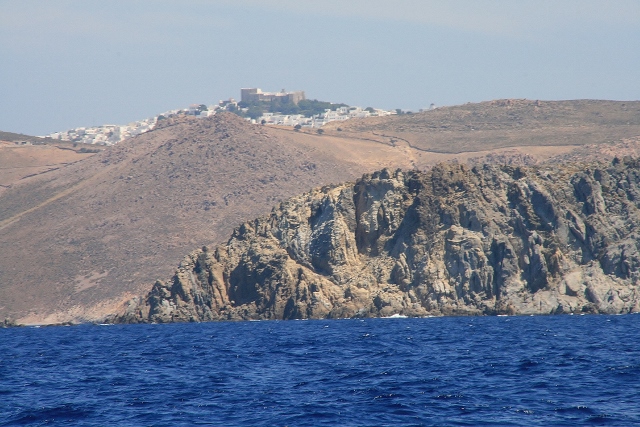 Patmos is the northern most island in the Dodecanese, so we are hopeful of having future meltemi's on our stern. It is famous as the island where the Apostle, John the Evangelist, wrote Revelations. We arrived, swam and wandered about the town of Skala, shopping in the big AB market, which have lots of goodies, fruit, veggies and nice wines.
This morning we went up to the Chora and visited the monastery and museum.  All Greek islands seem very different,  Patmos chora  prides itself on its spirituality. In Skala are lovely beaches and bays, shops, cafes and hotels but there is a strong underlying feeling of peace and serenity.
St John lived in a cave and the church of the Apocalypse, is now built around the cave. The cave is quite small and one can imagine a hermit living in this grotto and dictating his frightening visions for posterity. Sue and I were wearing sarongs over our shorts to visit the churches and monasteries. We weren't allowed to take any photos, but we could understand it because of all of the precious icons, vellums and paintings.