The weather has been great, sunshine and a breeze during the day and cool sleeping weather at night.  Yesterday, after walking from the Chora to town, we relaxed with a swim and later ate our dinner on the same beach.
We had excitement on the dock with a large private ship, with a staff ratio of 38 staff to 18 guests. It looked like Las Vegas at midnight when we were walking back from dinner. [Rene – there was a veritable light show on the water.]
At twilight a beautiful blue yacht sailed in and anchored in Skala harbour for awhile. We much preferred this beauty and we think it may be the Murdochs' boat.
We were up early this morning to leave our wonderful Patmos and go and explore Leros.
James, Sue and Swanno and I had the spinnaker up quickly.  She is a beautiful duck egg blue and it was a perfect day to try her out.  Sadly, when Davo was with us the meltemi was a bit fierce going to Mykonos for the spinnaker but we will rectify it next year.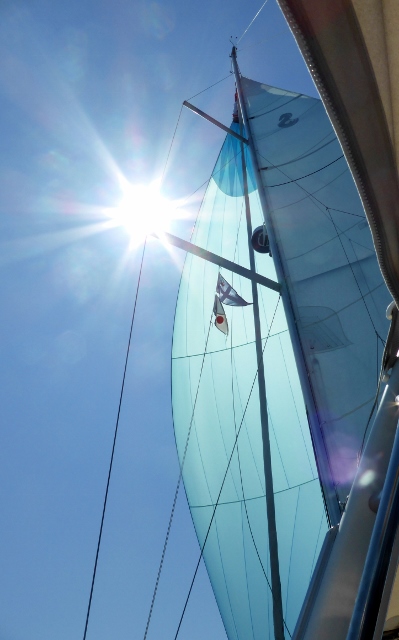 We stopped for a swim off the boat as we came into Lakki and the water was perfect. We are looking forward to enjoying all the treats Leros has to offer.
We would like to offer our thoughts and prayers to the family and friends of the people killed in Malaysian Airlines flight disaster.