Let me apologise, a man about 6ft 4 inches tall made me write that.  Accurate though it may be it is also corny; still a glass of wine and a very relaxed attitude and that is what you get.
We have been in Ostia, a suburb of Rome for two days now, but Monday was taken with James visiting boat yards to see where we could leave Mercier for the winter. Sadly our time in the Med is coming to an end this year at the end of the month. Not to say there have not been entertaining moments, at the local bar (where we get our WiFi) they had a Salsa dancing class last night with 7 women and 4 men being coached (in separate groups – the womens work ups were much different to the men's). Rene,you would have enjoyed joining in.
Tuesday morning, though we hopped into our little Fiat 500 and took the ring road to Hadrian's Villa, near Tivoli. Hadrian, a Roman emperor ( 76 AD -138AD) , created it as a summer retreat circa 120 AD  and it took up more than 120 hectares.  It is about the same size as Pompei.
We will say there are beautiful mosaics, statuary and ponds at Hadrian's Villa.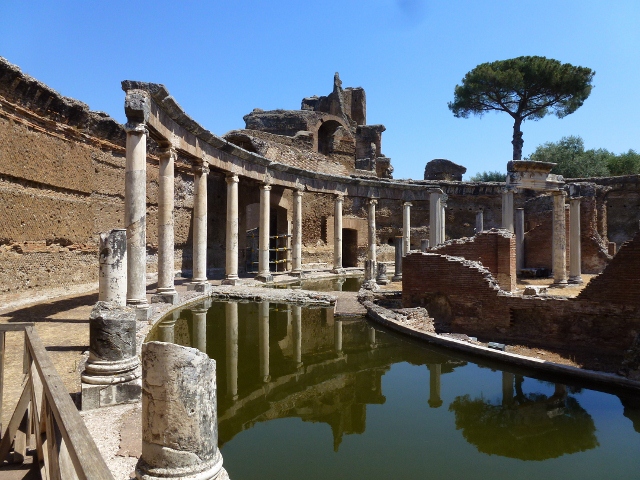 We know Ed will be interested in the fact that they used a Lamborghini tractor.  We think it would look lovely at Noorong.  Did you know that Lamborghini actually started as a tractor manufacturer after WWII?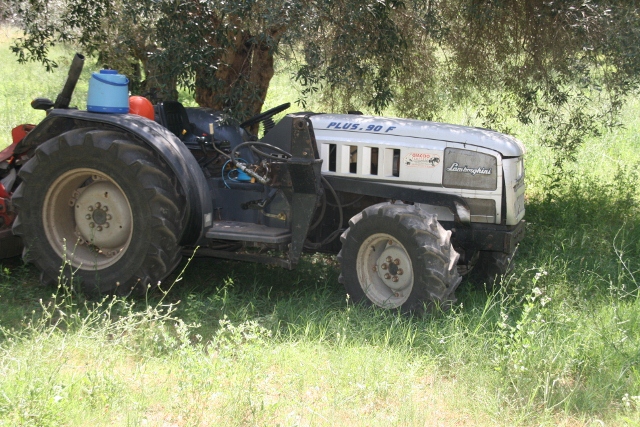 We had a hair raising ride around the 'vincino" or vincinity of Tivoli.  Between Hadrian's Villa and Villa D'Este, the Tomtom was trying to get us to take a dirt road.  James found disused tunnels, back roads and squeaked by with the millimeters to spare on one lane cobbled alleys and streets.  The 500 came out of the darkened tunnel; just in time to swerve out of the way of an open manhole.  I don't think the car hire company would have believed we had been swallowed whole.
Finally a road sign, and we went up to find the car park on the other side of the hill and we were at Villa D'este and Tivoli. We had a wonderful lunch in a nearby Piazza, James had shoulder of lamb, slow cooked to perfection.  Order was restored to the universe.
Villa D'Este is amazing, think it is a very hot 30+ day and very still, but you find yourself at the top of the hill and zephyr breezes come through and then fountains everywhere, in a verdant garden with 20 shades of green, rushing, gurgling water and beautiful stone work . It really is Fountains R US with so many different fountains and has been featured on many TV shows – Burke's Backyard springs to mind, but many others as well. Behind the main fountain there are small alcoves with fountains in the back, acting as early air conditioners, with the temperature much below the outside.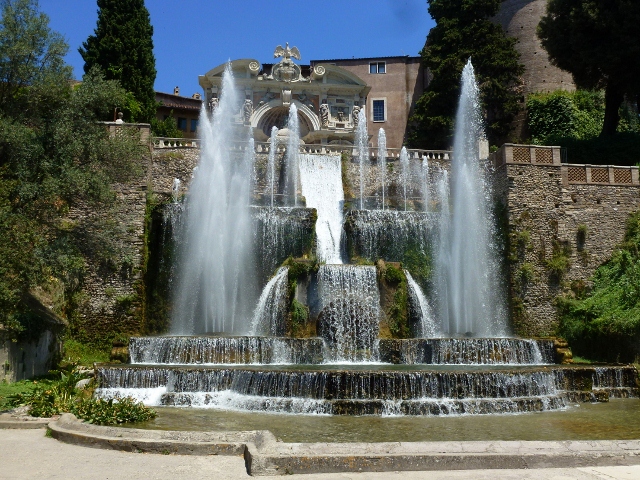 Originally built as a summer retreat for one of the popes, it has a grand residence with each room containing wall and ceiling murals,
then there are the gardens and fountains.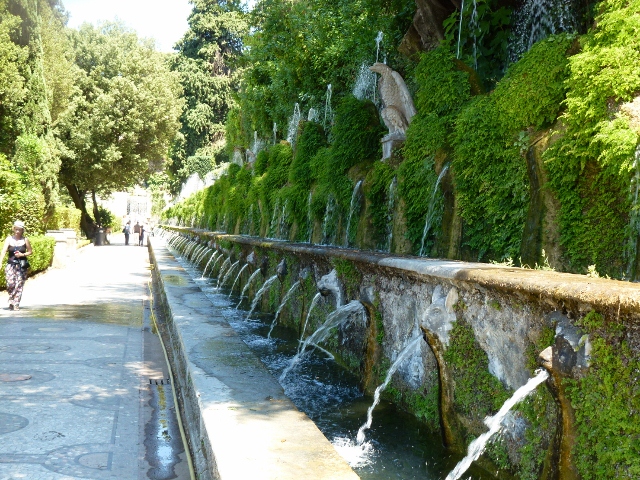 Sorry, but lots of photos here