We had a stopover in Calabria at the Marina of Roccella Ionica.  We had heard that silting to the entrance of the harbour could be a problem and we should stay to the left.  Since a yacht, just about the same size was stuck in the middle of a sand bar, we thank Heikell for the information.  He is rather like a patron saint of yachties in the Med.  On this approach, you could see who read Heikell and who was stuck on a sandbar.
Upon entering, we found a small tidy marina of Roccella Ionica run by Francesco Lombardi.  We were assisted with getting our documents stamped by the Coast Guard and information given about the nearby restaurant.  Since we had arrived just hours before sundown, we were in a queue of boats. It was like Friday night on the harbour bridge.  He did get everyone's papers processed.  There was a great energy and a great welcome to Marina of Roccella Ionica.
We dress and walk around the marina to the restaurant. There were hundreds of people from the local community as well as many yachties, sitting under a large waxing moon at the outdoor tables. There were tables for twenty and tables for two, children and puppies wandered through the table. Pizza was served, not by a slice or a pie but in either a half metre or metre, on a long narrow board.  We had fish and pasta but everyone's food looked good. The camaraderie of whole families in the restaurant, children playing clap hands and dancing, wishing Auguri for someone's birthday, made for a fairytale evening.
Another early start found us sailing for ten hours to Santa Maria di Leuca.  We all keep watch for lobster pots and ships, but James and Louise do Sudoku.  Louise is also sketching every day.  Frosty and Gaila are writing and journaling. We also listen to talking books and podcasts. There is no small amount of chatting and cooking going on.
We arrive at Santa Maria di Leuca about 5:00pm.  As we sail in, the brass band strikes up an Italian song and we are wondering why they are so excited by our arrival? Ah, but no.  It is the boat behind us with a large number of Italian Youth Sailors, who are circumnavigating Italy and being feted at different ports during their summer holidays.
We shower and go straight out to a lovely restaurant, walking under the full moon, which was extremely large and beautiful.  As we go, we pick out the house we want for our Italian fixer upper.  There are some beautiful houses here and lovely gardens too. We all have a favorite, each usually a bit run down but quite grand with colonades.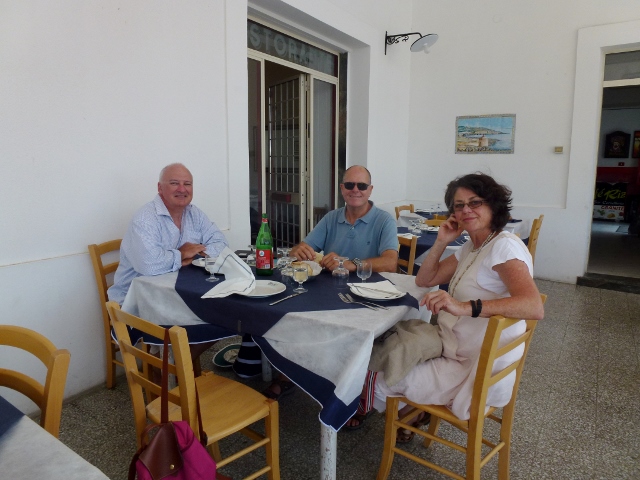 The next morning, James goes with all our paperwork and hands in our Italian cruising permit.  The border patrol actually drives to us from about sixty minutes away, saving us a long sail to Brindisi. They stamp us out of the EU, we are off to Montenegro.  Just one last gelato before we go!